"The weather will play a big part in this Championship"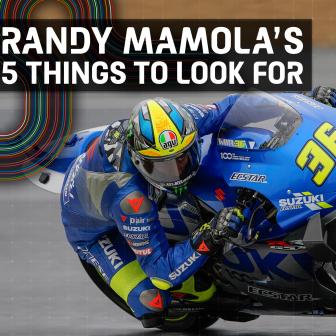 MotoGP™ Legend Randy Mamola is back with some of the key points to look for at Le Mans
MotoGP™ Legend Randy Mamola is back to offer you some key points to look out for ahead of the SHARK Helmets Grand Prix de France and the rest of the season, which sees six races come our way in the next seven weekends.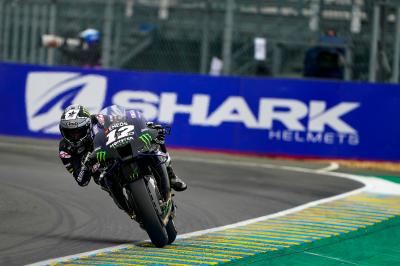 1. THE WEATHER
"Let's talk about the weather in Le Mans. We know that in May there is always a big chance of rain and for the grip levels to be low and therefore there tends to be a lot of crashes. In October we're expecting pretty much the same. It could even be cooler and harsher temperatures for the riders. It is going to be so important for these guys to concentrate when they go out and make sure those tyres are nice and hot as they build up speed for setting up lap times going into the race. This racetrack tends to make riders lose the front end due to grip levels and even in Le Musée corner, going in and coming out of the corner seems to wreak havoc in the left-hand side of the tyre.
"I believe in the six Grand Prix we are going to have, the two triple headers, because we're going into October and then November, I just think over the next six races the weather is going to play a big part in this Championship."
2. WHO WILL BE TOP DOG IN FRONT OF 5,000 FRENCH FANS?
"There will be 5,000 lucky fans who have got tickets to come and that's wonderful to see. They're going to be behind Quartararo and Zarco, Quartararo is in super form at the moment and you can imagine that he's going to be pumped up heading to his home race. Zarco seems to always pull out strong races in front of the home crowd and although the crowd will be minimal, I can guarantee you it's going to be an excited crowd. Le Mans always treats us very well with the organisation and it's going to be a good race to watch for fans. I can tell you that there's going to be much more competition when winning the French GP, but let's see if there's going to be a French flag on the top step, second step of third step."
3. SUZUKIS ON SONG
"What's not to like about Joan Mir. He is so fast, so smooth, got a great smile, fun and exciting to watch and there's a win in his back pocket. He's is by far the most consistent finisher for the podiums this year and he's got four in a row at the moment, can he make it five? And can number five be the win? It's yet to be seen but he's definitely got the talent. Alex Rins showed stunning grit to get on the podium in Barcelona. His first podium for around a year when he beat Marc Marquez at Silverstone. But inside that garage it works like a team, you can sense they're friends, straight across on both sides of that garage and that's important when trying to win this Championship – and they've got a shot at it for sure."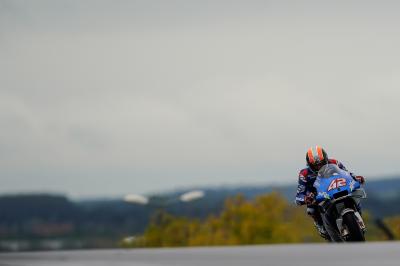 4. LUCKY SEVEN
"Now I know when I do my 'Things To Look Out For' if I don't mention every rider there's always someone writing in the comments 'what about this guy or that guy'. I can only mention so many each weekend but let me tell you, there is a long list of guys that can win a Grand Prix this season, that's for sure. It's just when or where that might happen. In particular, what I spoke about in my first point about the weather and how it will affect this weekend. There's going to be guys that are fast in the wet and some that are a little cautious. You cannot count out any of these riders being on the top step if the rain arrives: Rossi, Miller, Petrucci, Pol Espargaro, and the list goes on. The KTM riders can easily be up there too in any weather, we've already seen Binder and Oliveira win Grands Prix this season and they could definitely do it again. It's going to be so important to remain consistent but it's so exciting for MotoGP fans because to be perfectly honest, even the best experts in the world are saying 'who knows' when it comes to predicting a winner. There are guys that know they cannot afford to lose points by crashing, plus there are guys who have nothing to lose and will go for broke. That's what's going to make the next six races super exciting starting this weekend in Le Mans."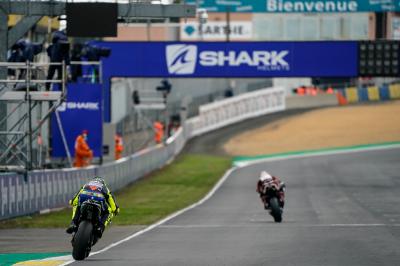 5. SIT BACK AND ENJOY THE SPECTACLE
"Thanks for coming to the blog and I look forward to chatting with you all on the points I've made here. There's always positive and negatives for riders at every Grand Prix but let me assure you, these guys are giving it everything they have this year and every year. Sometimes they get criticised for crashing, but everyone will end up crashing at least once this season, it happens. When it comes down to who finishes where I'm just a big MotoGP fan like you guys and if it ends up being someone new realising their dream and taking victory then that's a win for all of us too."
Every practice session, qualifying battle and race, exclusive interviews, historic races and so much more fantastic content: this is
VideoPass
!