"10th winner? For me, there's three strong contenders"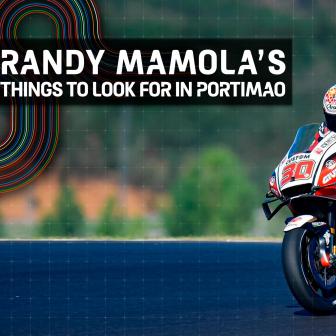 MotoGP™ Legend Mamola is back for his things to look out for ahead of 2020's last dance
Ahead of the last dance in 2020, MotoGP™ Legend Randy Mamola is back to share his thoughts as the riders get acquainted with the epic Algarve International Circuit at the Grande Premio MEO de Portugal.
"Hey it's Randy Mamola here and this is the final episode of things to look out for in 2020. It is the final race weekend of the year and it's the first time ever MotoGP has been racing in Portimao. The premier class Championship is all wrapped up, but there's still plenty to look out for!"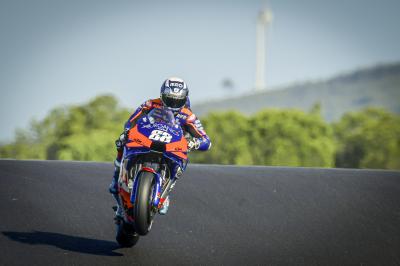 1. NEW TRACK, NEW CHALLENGES
"What a way to end the 2020 season: to have a new racetrack on the MotoGP calendar in the shape of Portimao. Let me tell you something, when you are at this race track it is stunning to see in the mountain area and the layout is given such characteristic of elevation changes, undulating layout and its reputation of looking and feeling like a high-speed rollercoaster circuit. It's a thrill for not only the fans to see but of course for the competitors as well.
"The difficulties of the technique of getting around this racetrack is trying to keep both wheels on the ground with its elevation changes, and five or six braking points are at blind corners where you don't see where the corner is, you're going to have to know your whereabouts and brake markers are going to be so important for these guys, and it's interesting to see which manufacturers, which teams and riders seem to get the best out of their package on Friday going into Saturday's FP3. And of course qualifying one of those things, as I stated, is the fact that there are five or six corners completely blind where you don't know where the corner is and that's all going to be about timing.
"Quite a few of the riders in MotoGP had an opportunity to go to Portimao for a day of riding, albeit on road bikes, they had a great time. They love the layout of the racetrack but also felt that it was technically challenging and it's going to be super exciting to see now what they have to say once I get on their Grand Prix bikes come Friday morning. It will also be exciting to see the FP1, 2 and 3 on how they improve as they go through, as well as the different manufacturers whose machine seems to be able to fit it sooner rather than later.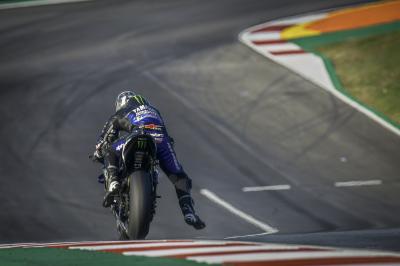 "Portimao will have never seen anything like it when MotoGP bikes get on this racetrack with the amount of horsepower and the performance levels of MotoGP. These bikes are definitely going to need their wings to try to keep them on the ground."
2. NOTHING TO LOSE
"First things first here, a massive congratulations to Joan Mir and Suzuki. Taking the Championship win in Valencia shows how strong he and Suzuki have been this season. With the MotoGP Championship already taken for 2020, we have second and third up for grabs. There's just one more race and just one more chance to get on the podium and/or win. It's for the fortunate few and it's going to be exciting to see. Guaranteed track fireworks again this weekend."
3. WINNER NUMBER 10?
"What do you think guys, a 10th different winner? And who could it be? With Mir, who finally got his first victory back in Valencia, bringing the total to nine and equalling the all-time record from 2016, will the unpredictability with the racetrack that we've never raced at before and the Championship wrapped up, with the whole grid all having a point to prove one last time this year, who is it going to be?
"For me, there's three strong contenders. For sure you'll come up with more. The first has to be Pol Espargaro, five podiums in the last nine races, two P3s came in Valencia. And then there is Jack Miller, he finished less than a tenth off the win last weekend. Who's your money going to be on? I have one other rider though, I'm hoping he can do it as well and that's Taka Nakagami. Fingers crossed for all of them."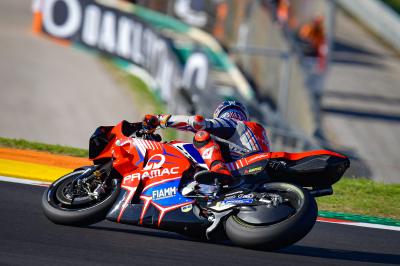 4. CHAMPIONSHIPS TO DECIDE
"Finally, there are still two Championships alive and to be decided this weekend: Moto2 and Moto3. It is going to be so interesting. With the MotoGP class we talked about trying to learn a new racetrack, well most of these guys have the same challenges ahead of them. If you're fighting for your first Championship as most of these riders are and you had to do it at a circuit you'd never been to before, that's certainly going to ramp up the pressure. Another big difference is that on the last lap, particularly in Moto3, we could see 15 to 20 riders fighting for a place inside the top 10, let alone a podium. That will make the title challengers very nervous going into it. In Moto3, it couldn't be any tighter with three guys fighting it out. Anything could happen and I can't wait to see it.
"In Moto2 this season, it's been full of ups, downs, excitement and some disappointment too. It's definitely advantage Bastianini at the moment but there's three other guys with a chance of winning. I'm hoping Lowes' hand is feeling better this weekend so we can see the finale this season deserves. Bastianini didn't have the best of days last time out whilst Marini and, in particular, Bezzecchi looked strong. It's too close to call and I can't wait for that one too."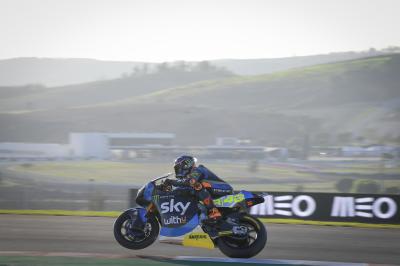 2020's LAST DANCE
"It's the last weekend of 2020, do not miss it. I'm looking forward to chatting to you all on social media throughout the weekend as the drama unfolds. Enjoy the Last Dance of 2020 guys!"
Every practice session, qualifying battle and race, exclusive interviews, historic races and so much more fantastic content: this is
VideoPass!