Best of the MotoGP™ Podcast!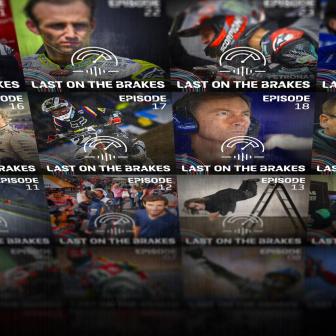 Settle down over the winter months and enjoy all 25 episodes of the Last On The Brakes Podcast
2020 has delivered one of the most exciting seasons in MotoGP™ history. History was made in an unforgettable fight for the premier class crown and, thankfully, both Matt Dunn and Fran Wyld were able to follow it every step of the way and get the thoughts of some of the key contenders in the Last On The Brakes Podcast. In a slightly unusual year, the pair spoke to a wide range of sporting stars throughout lockdown before then delving into some deep conversations with the stars of MotoGP™ once the World Championship got underway in July.
The pair have, quite rightly, taken a short break from the Podcast over the winter months but fear not, here at motogp.com we've compiled a one-stop-shop for you to check out all 25 episodes over the coming weeks and months so you can still get your MotoGP™ fix whilst we wait for the 2021 season to commence. As always, you can listen to every episode via your usual podcast provider by clicking on the links below or you can watch the episodes on YouTube, with links to each specific episode posted below too.
EPISODE 2 – RANDY MAMOLA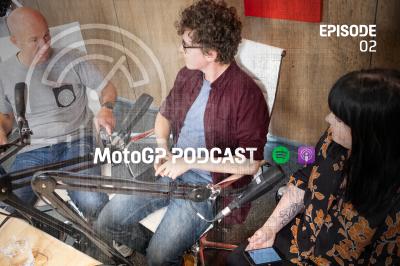 MotoGP™ Legend Randy Mamola set up 2020 and told us what's needed to bring the USA to the top of the sport! What was the original episode one of 2020 before the coronavirus outbreak brought the World Championship to a standstill, we had Randy Mamola in the house, well, Dorna HQ to get to know one of the biggest characters in the sport's history. An icon for not just his on-track antics but his work off-track as well, Randy has stories from all over including taking royal family members around Silverstone on a two-seater MotoGP™ bike, how the concept of showmanship first entered the World Championship and his take on some of the biggest saves ever.
EPISODE 3 – TOM LÜTHI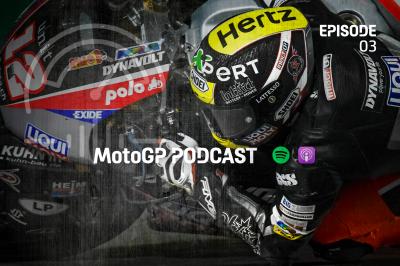 An unfiltered sit down with one of the most experienced riders in the paddock, let alone the Moto2™ class. 125cc World Champion, Tom Lüthi opens up about the challenges he faced trying to achieve his dream growing up in a country with no purpose-built race circuits, and the humbling experience that near enough every rookie goes through – being blown away by the speed of the full-time riders during his first-ever Grand Prix race weekend. What were 250cc bikes 'really' like to ride? As well as how to adapt not just a riding style, but your entire mindset as a racer, following your most difficult year yet.
EPISODE 5 – ALEX BRIGGS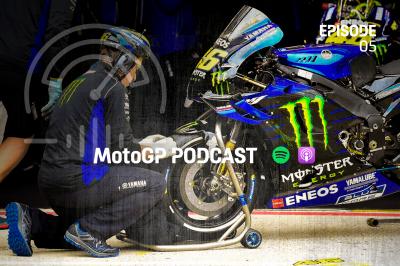 We sat down with the inimitable Alex Briggs, long-time mechanic to Valentino Rossi (and Mick Doohan and the like before that!). He talked us through his early love of riding motocross – in Australian style, that passion was born on a farm – and how he then moved into being a bus and then motorcycle mechanic! Plus, a little on working with giants of the sport, travelling around the world, what it takes to do the job in MotoGP™ and, of course, how lockdown was treating him.
EPISODE 6 – MAX BIAGGI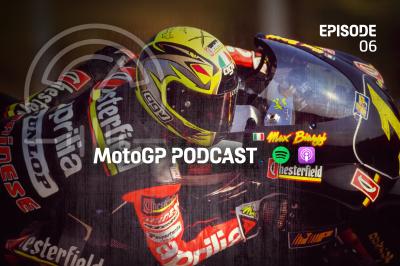 Six times a World Champion with four consecutive World Titles in the 250cc class, Max Biaggi gives his take on whether riders move up racing classes too fast these days, along with discussing how perceptions of motorcycle racers have changed since his Grand Prix heydays, as well as revealing his favourite aspect of the sport – something which he says he's never revealed before.
EPISODE 7 – KEVIN SCHWANTZ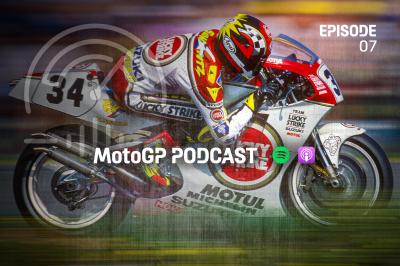 We talk to 1993 500cc World Champion, and fan favourite, Kevin Schwantz to discuss everything from his advice to young racers, filling the void in retirement and whether rivalry brings out a rider's true potential. Fresh from a socially distanced fishing trip, Kevin also gives some cracking anecdotes, demonstrating that even MotoGP™ Legends need to make sure they have all the protective gear even while out for a casual ride with their mates, as well as the story behind one of the biggest food fights the World Championship has ever seen.
EPISODE 8 – MAVERICK VIÑALES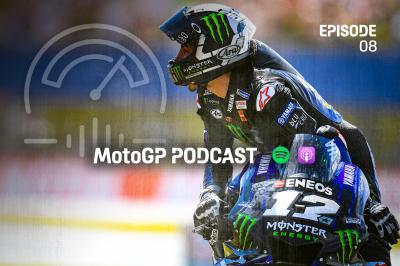 What's it like having one of the best pre-season campaigns to date and not being able to race? Maverick Viñales has been on a rollercoaster journey throughout his time in the premier class but it seemed as though he had all the pieces of the puzzle put together for his best year yet in MotoGP™ once we get going. We also wanted to know what really makes him tick, how he dealt with enormous levels of hype and pressure at such a young age, and particularly how he's able to be so zen and what is it like being in 'the zone' and complete focus? Is it a training program or his mindset, or both?
EPISODE 9 – DANILO PETRUCCI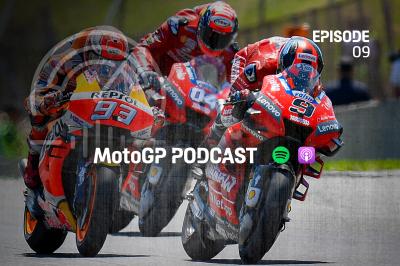 Danilo Petrucci joined the Last On The Brakes team to discuss life in lockdown and also why people should stop saying winning in Mugello was 'achieving his dream'. As you can imagine with Danilo, there were plenty of brilliant lines including "I felt like an ant fighting an elephant" too.
EPISODE 10 – DANI PEDROSA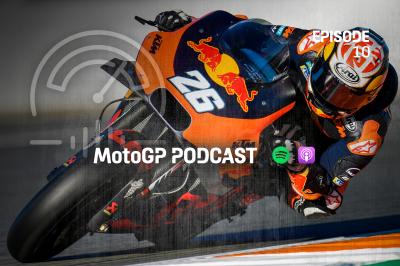 This week we have a catch up with MotoGP™ Legend and KTM Factory Test rider, Dani Pedrosa, as we wanted to find out whether one of recent history's more private stars managed to maintain a healthy balance between his personal perspective and, by default, leading a public life at the top of the sport. We also discuss why some riders prefer to speak less to the media and keep things to themselves and later on in the episode, we find out exactly what it feels like when the very best riders on the planet enter 'the zone', how they get there and what the dangers are from abruptly coming out of it. This is not an episode to be missed – Dani Pedrosa unfiltered and as open as you've ever heard him before.
EPISODE 11 – NEIL HODGSON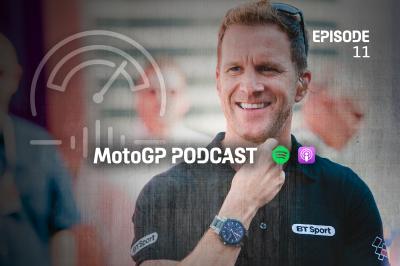 We sat down for a virtual chat with 2003 World Superbike Champion Neil Hodgson as the BT Sport presenter talks us through how the sport's changed, what the paddock's really like, the transition from riding to working in the media and a few of his pet hates to boot. Is the factories' rush to sign ever-younger talents the best way to go about it? How do you spot a Marquez-beating diamond in the rough in 2020? Hodgson doesn't have all the answers, but there's plenty of food for thought.
EPISODE 12 – MARK WEBBER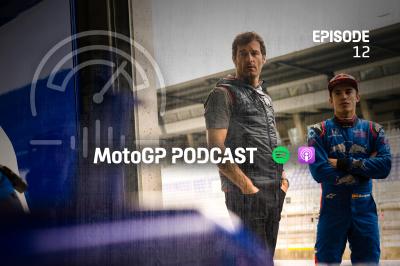 A first for the podcast – a feature-length virtual sit down with one of the biggest names in F1 over recent decades, who happens to also be a massive MotoGP™ fan! Mark Webber has not only been a fan since he was a young lad ripping up his garden on a dirt bike back home in Australia but has a unique view on the inside of our sport over the last couple of decades while racing at the very highest level of four-wheeled motorsport himself. From his friendship with Mick Doohan, looking behind the scenes in Rossi's garage, sitting on Wayne Rainey's World Championship winning bike at his home in California, to track days with WorldSBK legend, Troy Bayliss – who better to ask about the parallels between the two biggest motorsports on the planet than this nine-time F1 race winner?
EPISODE 13 – ROSS NOBLE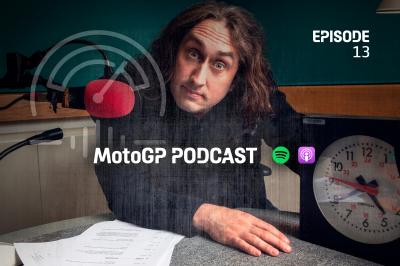 If you don't already throw your leg over a motorcycle from time to time, you'll certainly want to after this episode! Comedian Ross Noble joins us from his extremely well-equipped bunker down under for a wild ride conversation talking everything from bumps at race circuits which only exist to the fastest riders on the planet to the alternative theories behind the infamous MotoGP™ leg dangle, and much more.
EPISODE 14 – RAZLAN RAZALI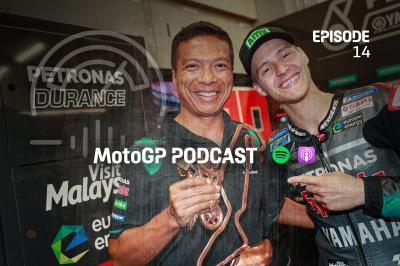 Ahead of the launch of a behind the scenes docu-series about Petronas Sepang Racing Team's first year in the MotoGP™ World Championship, we wanted to chat to team boss Razlan Razali and ask him the REAL story behind how that team came to be. We also wanted to answer some questions for MotoGP™ fans out there that can only come from a team boss, such as, how can you nurture a seven-year-old into a MotoGP™ World Champion? And, what is the right attitude that team managers look for in young racers?
EPISODE 15 – GREG MINNAAR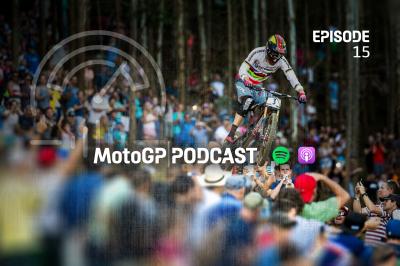 Who is the Greatest Of All Time, or 'GOAT', of MotoGP™? Depending on who you ask, it could be one of several different riders from over the years. Is it just about the number of wins and Championships? Does impact and influence on the sport come into it as well? It's probably an argument that will never be settled. But nevertheless, we thought we'd ask MotoGP™ fan and the GOAT of Downhill Mountain Bike racing, Greg Minnaar, what his thoughts are and how exactly, much like our very own Valentino Rossi, he's managed to stay at the very top level of his own sport for 20 years and overcome the challenges that come with every new generation of rider. This is not an episode to be missed!
EPISODE 16 – NICO ROSBERG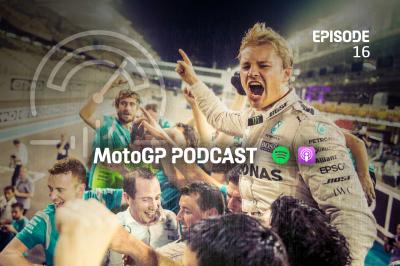 Has there ever been a better time to add a dash of electric to our podcast rota? As we awaited the beginning of the second season of the FIM Enel MotoE™️ Cup, 2016 F1 world champ Nico Rosberg joined Last On The Brakes to talk us through his connection to Energica, the manufacturer of the bikes in MotoE™️, and a whole host of motorsport, F1 and "life at the top of your sport" kind of tales. From sharing a garage with legends like Michael Schumacher and Lewis Hamilton and walking away at the pinnacle to personal development, social media and more, Rosberg shares a few of his thoughts on racing, winning and the thrills we're enjoying as electric racing continues to impress.
EPISODE 17 – CHAD REED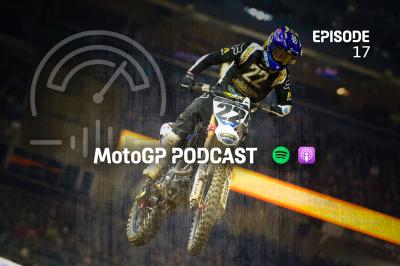 We're coming at you with another dash of wisdom from Down Under as we talk to bonafide Supercross legend and huge MotoGP™ fan Chad Reed. From what it might be like racing behind closed doors – and on such a condensed schedule – to the intricacies of how relationships change between riders over time as rivalries grow or wane, there's most definitely something for everyone, whether you're coming at us from SX or our very own MotoGP™ faithful. How do you just click into race mode? How do you balance being mates with two men whose rivalry has started to redefine the word? Chad Reed knows, so sit back and enjoy finding out in typical, laidback Aussie style.
EPISODE 18 – LIN JARVIS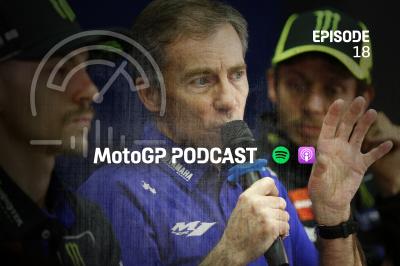 Out of all the episodes we've done so far, the direction this one took surprised us the most! Known for his ultra-clear, considered and concise interviews about the highs and lows of Yamaha over the last 2 decades, Lin Jarvis gives his most candid and relaxed interview we've ever seen on camera as we wanted to get to know the man behind the steely gaze staring up at the timing screens! How does someone even get a job like being the Managing Director of Yamaha Motor Racing and the man in the middle of two sporting giants such as Valentino Rossi & Jorge Lorenzo? Where do you even start? Well, like every great story, from the very bottom. If you want business, communication, general people management lessons, all mixed with some tales and insights behind the scenes in one of the most successful sporting organisations on the planet, then this is the podcast episode for you!
EPISODE 19 – PIT BEIRER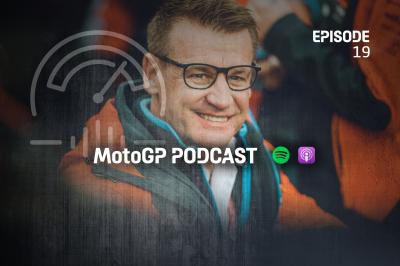 Could you ask for a better-timed podcast guest? Straight off the back of their first AND second MotoGP™ victories, we have the man who orchestrated KTM's rise to the top of the pinnacle of motorcycle road racing, Pit Beirer. As ever, though, we don't want to *just* get all the trade secrets and what the lowdown is from Mattighofen, Austria, talking to Pit Beirer – head of KTM's motorsports projects, we want to bring you the story of Pit Beirer, the Motocross racing legend. What skills did he develop throughout his racing career that got him where he and KTM are today, what was his first job in the Austrian manufacturer when his 'new life' started in the early 2000s? How did he persevere with his steel frame philosophy while almost everyone else was telling him he was wrong? And lastly, when was the exact moment that he and KTM's top brass decided to start their now race-winning MotoGP project? All questions we have answered.
EPISODE 20 – WILCO ZEELENBERG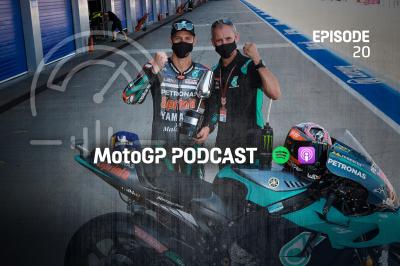 Wilco Zeelenberg is a one time 250cc Grand Prix winner and as team manager, he took Jorge Lorenzo to three MotoGP™ World Championships, Cal Crutchlow to his World Supersport Championship, and now is the team boss at Petronas Sepang Racing Team in MotoGP™… which you may know, just took victory in Misano with Franco Morbidelli and two previous victories this year with Fabio Quartararo… they're pretty decent, to say the least. He also was the first 'rider performance analyst' in the MotoGP™ paddock, that's "rider coach" to you and us, so basically is responsible for creating an entirely new job in racing. So what does he think of that? How did he decide the moment to retire from riding? How did he then rise to the very top of the sport once again? As you'll hear, it was far from straightforward – even on his first day in the new job!
EPISODE 21 – ANDREA DOVIZIOSO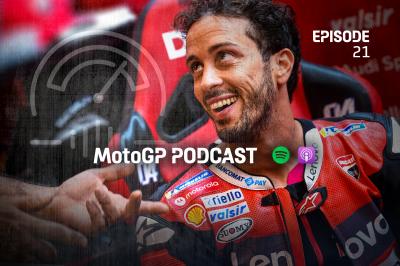 It's not often you get a full 25 minutes to chat with one of the greatest motorcycle racers in recent history. But here we are, bringing you guys Dovi Undaunted and Unfiltered talking about some of the things closest to his heart: Supercross, caravan holidays, his inner circle, and of course the methods he uses to be at the very top of his game every time he lines up on a MotoGP™ grid. There's not just stories and perspectives in this episode, there are a few things for us all to take away from this one as well.
EPISODE 22 – JOHANN ZARCO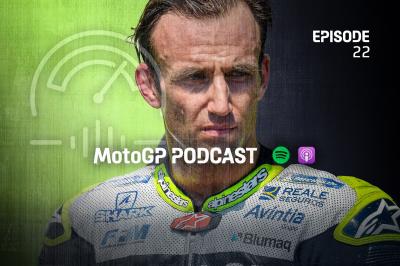 At the very circuit where last year, Johann Zarco rocked up in a motorhome with no ride in the premier class, looking for a job and a way to rebuild his career, we sat down with the double Moto2™ World Champion to discuss what it takes to make it back to the top of the sport to the podium and continue his search for the holy grail, that first MotoGP™ victory. In one of the most open and honest Last On The Brakes podcasts to date, Johann tells us about the humble beginnings of his racing career and how, inspired by his own start in the sport, he wants to help potential French motorcycling superstars in the future. Plus, what MotoGP™ world he thinks Marc Marquez will return to once he recovers from injury – will he have it so 'easy'?
EPISODE 23 – FABIO QUARTARARO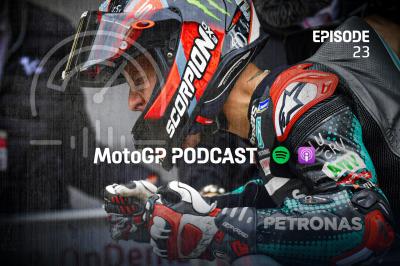 From 'the next Marquez' to 'totally lost', this is the story of Fabio Quartararo and how he dug himself out a 2 year long rut, propelling himself into a MotoGP™ ride and stunning the world by taking it to the best of the best in his first premier class season aboard an Independent Team bike in their own debut MotoGP™ season. Key takeaways from this episode are how he uses the pressure he once felt to his advantage, how he keeps his feet on the ground and what it's like to basically have all your dreams come true in a very short space of time.
EPISODE 24 – DAVIDE BRIVIO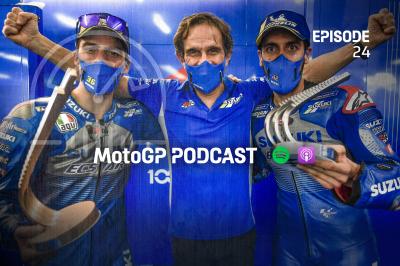 What does it take to be a MotoGP™ Team Manager? Well, if you want to be anything like Davide Brivio, try your hand at just about every job there is in a motorcycle racing team, from grassroots, to professional and then to the very top level! He has seen it, done it, and got the t-shirt. Then, he started all over again at Suzuki! With the Hamamatsu-based manufacturer on the cusp of a triple crown World Championship season in 2020, we get to know the figurehead behind it all, how the project restarted once they left MotoGP™ initially in 2011 and what the whole team's philosophy has been to bring Suzuki back to the very top of the sport.
EPISODE 25 – TAKAAKI NAKAGAMI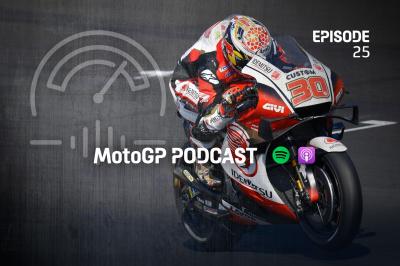 Season 2 of Last On The Brakes comes to a close and with another high profile guest – one of the sensations of the 2020 season, Takaaki Nakagami! He's actually the first return guest we've had on the podcast after we spoke to him last year so this time we wanted to breeze through his origin story and hit him straight with the burning questions we had in mind – his honesty to himself and the media when he makes mistakes and what it's like looking at Marc Marquez's data and trying to emulate what he does on the track. Huge thanks to Taka for his openness, we hope you all appreciate what we think is up there in the top 3 most interesting podcasts we've done this year!
Every practice session, qualifying battle and race, exclusive interviews, historic races and so much more fantastic content: this is
VideoPass!