"We will be more united than ever" – Shinichi Sahara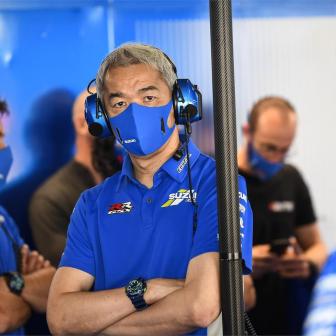 Will this mean the need to restructure current team departments?
"It is always necessary to fine-tune the team structure to get the maximum performance from each team member as standard procedure, even without Davide's leaving. But I think everyone is professional enough and has the know-how to go on in the best way possible."
Suzuki now has two options: Choose someone from outside the team to replace Davide or promote someone who is already within the team in order to maintain the philosophy and familiarity. Which would you say is a better choice at this point?
"I think that we can manage the situation with the people inside Suzuki, and it is the best way for us. We know who we are, how we work, how we interact, and what we need. We won't look for an external manager right now, we will try to manage by ourselves."
Talking about the upcoming 2021 season, where has Suzuki pushed the most during winter break?
"Like we have been doing in the past, we are trying to improve all the areas of our bike's performance without losing good balance. Probably we should aim to have better grid positions without losing any performance for race distance."
How could the rivalry between Joan and Alex help to make the bike better?
"We must be able to avoid serious mistakes in terms of the direction of development with the various data collected from two different characteristics of riding style at a very high level. They understand themselves the benefit of sharing the data and it helps our development of the bikes to become more competitive for both riders."
Is the best version of Joan Mir still to be shown?
"Yes, of course. He is still young and he is about to start only his third season with us, so there's still a big margin to know the bike, the team, and to improve. I guess after winning the championship he has also gained maturity and he knows how to deal with pressure."