Who can topple the King of the Ring in Germany?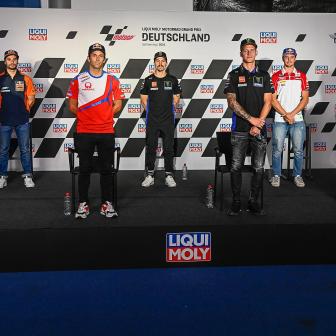 Marc Marquez is chasing 11 in a row at the Sachsenring, and despite injury, his rivals expect to see him at the front on Sunday
He may not have been present, but it's no surprise that Marc Marquez (Repsol Honda Team) was at the tip of everybody's tongue at the pre-event Press Conference ahead of the Liqui Moly Motorrad Grand Prix of Germany, with the HRC man chasing 11 straight victories at the Sachsenring.
Those that were in attendance were Fabio Quartararo, Maverick Viñales (both Monster Energy Yamaha MotoGP), Johann Zarco (Pramac Racing), Jack Miller (Ducati Lenovo Team), Joan Mir (Team Suzuki Ecstar), Miguel Oliveira (Red Bull KTM Factory Racing) and the premier class' newest recruit, Fabio Di Giannantonio (Federal Oil Gresini Moto2).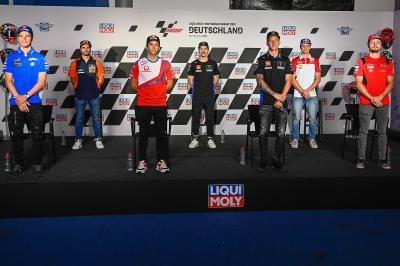 Who can stop the King of the Ring?
The eight-time World Champion continues on his well-documented road to recovery, however, with the Sachsenring next up on the 2021 MotoGP™ calendar, it's little wonder he dominates the headlines. He has dominated proceedings on the previous 10 visits to Germany, with 10 victories and 10 poles to his name. His rivals are acutely aware of his record here, and despite having yet to reach his pre-injury form in 2021, they fully expect to see him fighting from the front.
Quartararo: "It is a track he has got the last 10 wins and pole positions. He will be there. It will be an important moment for him. At the moment I'm not really looking at him, but yeah, he will be fast. In the end, I'm focusing on myself, but it is a great moment for him to come back and to take a podium or victory that will be a big boost to his confidence I think everyone will try make him not win or get a podium so he doesn't take too much confidence!"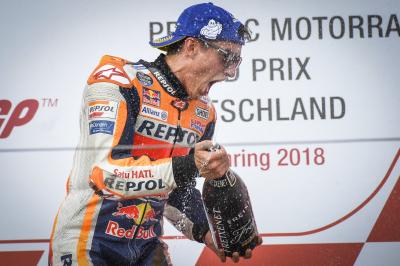 Mir: "He will be there, he will be strong. Even if he isn't 100%, I expect him to be strong. I would not be surprised if he is one of the contenders for the win on Sunday.
Zarco: "If there is a bet to do, I think someone could put some money on him. He might not be in the Championship fight right now, but we need to do some other calculations, he is, not aggressive, but he does not hesitate when he overtakes, we have to take him into consideration for the podium fight."
Can the Sachsenring become a Ducati favourite?
It is no secret that in the past, there were certain tracks that the Ducati favoured over others. However, 2021 has seen the Bologna bullets dispel the notion that they wouldn't be able to keep pace with their rivals, particularly in places like Jerez and Catalunya, but that has proven a fallacy to date as we have seen the scarlet red of the Desmosedicis well represented among the podium places at those circuits. The Sachsenring is another in which some tip them to struggle, but the Ducati camp appear to be in a confident mood ahead of the weekend.
Miller: "I'm definitely excited to take the GP21 around here, it is definitely a better package and I think we can be quite surprised with how well it works here. For sure, there's always tracks that suit your bike more than others but it is about how you adapt your bike to the track. Here it isn't too bad, the corners aren't like other tracks where you rely on turning to a massive degree, you're not changing directions too much."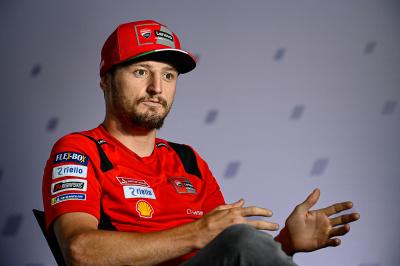 "I'm super excited to see how the GP21 works in those conditions because, it's definitely been an improvement from what we rode here in 2019, and yeah, we need to keep working on that and hopefully we can turn some of the non-Ducati tracks, like we've done to a few so far, into ones that aren't too bad for a Ducati."
Zarco: "As usual I try to be neutral and positive. We know…we hear from all the media that is not the best track for the Ducati, but I don't fully agree with it because we can have some good surprise and really with the experience and getting on now with the time and on this bike, I'm curious to see which feeling I will have on this track that it's a real particular one compared to all the others."
A day to remember
Elsewhere, Moto2™ rider Fabio Di Giannantonio (Federal Oil Gresini Moto2) won't forget June 17th, 2021 in a hurry, after it was confirmed he would be making the step up the premier class with new Gresini Racing Team in 2022. The Italian rider could barely contain his excitement when speaking about the move, which will see him ride a Desmosedici, a match made in heaven according to the 22-year-old. However, as he moves up a grade, Di Giannantonio was keen to remember the man who made set him on this path.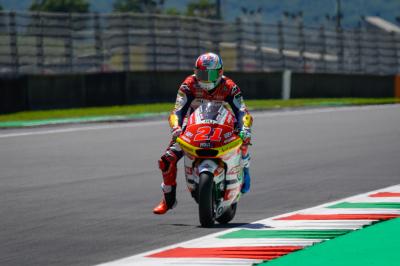 Di Giannantonio: "I will ride in MotoGP with the best riders in the world and also with the bike of my dreams, you know, the Ducati is for an Italian guy is something amazing, so yeah really excited honestly."
"Fausto's dream and our dream is to be at the top level in Moto2 and then to be at the top level in MotoGP so I think we're just doing what he can be proud of, you know? So, we're just trying to pursue our dream and working on it."
The wait is nearly over, with MotoGP™ seeing wheels on the ground for FP1 on Friday at 09:55 (CET). Make sure you tune in then.
Every practice session, qualifying battle and race, exclusive interviews, historic races and so much more fantastic content: this is
VideoPass!