Season so far: French Grand Prix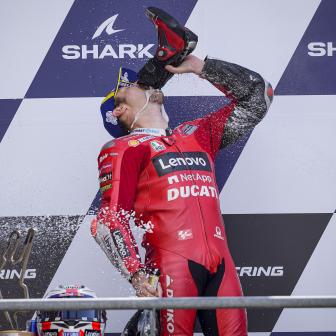 We were treated to the first flag-to-flag race in four years as Jack Miller went back-to-back
If you like your Sunday afternoons to be packed with pulsating drama and unrelenting action, then it didn't get any better than the 2021 SHARK Helmets Grand Prix de France. In a rare flag-to-flag race, Jack Miller (Ducati Lenovo Team) – despite two long-lap penalties – became the first Australian since Casey Stoner in 2012 to win back-to-back races in the premier class to lead home a double French podium at Le Mans. Johann Zarco (Pramac Racing) and Fabio Quartararo (Monster Energy Yamaha MotoGP) sprayed the bubbly on the famous rostrum in an unforgettable MotoGP™ encounter.
EVERY SECOND OF THE FLAG-TO-FLAG DRAMA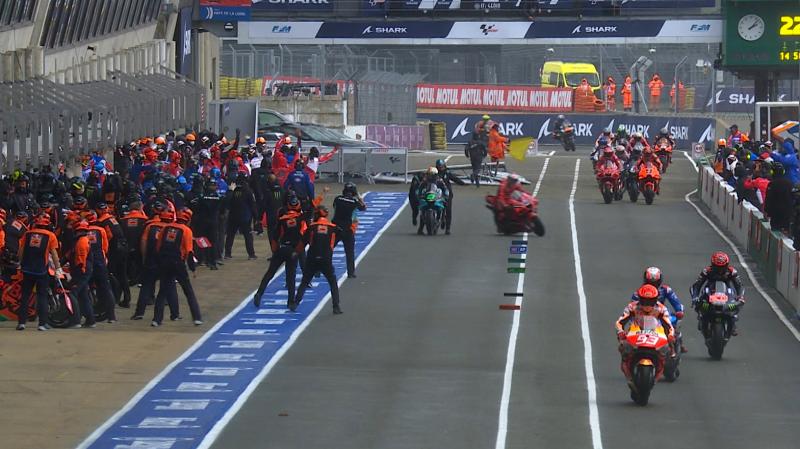 UNMISSABLE: Full flag-to-flag drama as rain creates chaos 16/05/2021
Four long years we've waited to see MotoGP™ bike rumble down pitlane halfway through a race and, at long last, that wait came to an end in Le Mans. The rain began to fall and the riders tip-toed their way around the Le Mans circuit before heading down pitlane and swapping bikes. Relive every second of the drama.
MORBIDELLI CLIMBS OFF A STRETCHER TO GET A POINT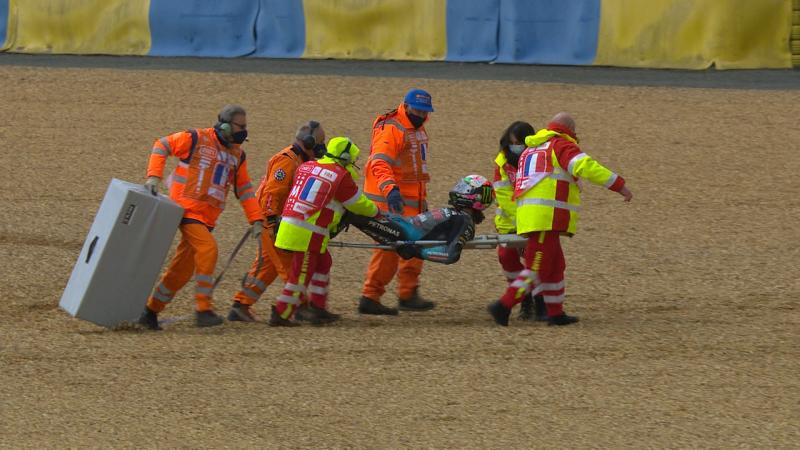 Morbidelli climbs off the stretcher to try salvage a point 16/05/2021
We're well aware of the fact that MotoGP™ riders are a different breed by now, but even sometimes their bravery can surprise us still. After struggling with a knee issue for the majority of the weekend, Franco Morbidelli once again had issues during the race. He was forced onto a stretcher before then climbing off it, pushing his bike all the way down pitlane and getting back out on track to salvage a point.
WHY DID THE SHOEY RETURN?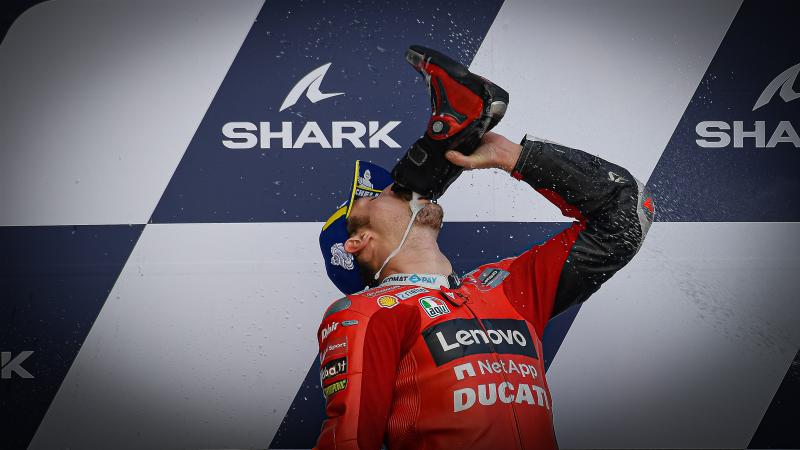 Miller or Ricciardo? Why 'The Shoey' made its MotoGP™ return 16/05/2021
After taking top spot in Jerez, Jack Miller didn't treat us to a shoey. Thankfully though, it returned in Le Mans after setting the record straight with Fabio Quartararo and Daniel Ricciardo. Get the full story here.
MARC MARQUEZ ADMITS HE WASTED A GOLDEN CHANCE
WATCH: Marc Marquez admits he wasted golden victory chance 16/05/2021
In only his third race back, Marc Marquez had hit the front of a MotoGP™ race. The Spaniard took full advantage of the tricky conditions and pulled clear following the bike swaps. Then the unthinkable happened as he crashed out of the lead of the French Grand Prix. Hear his full reaction to a frustrating day.
Every practice session, qualifying battle and race, exclusive interviews, historic races and so much more fantastic content: this is
VideoPass!