2016 MV Agusta Brutale 800: MD First Ride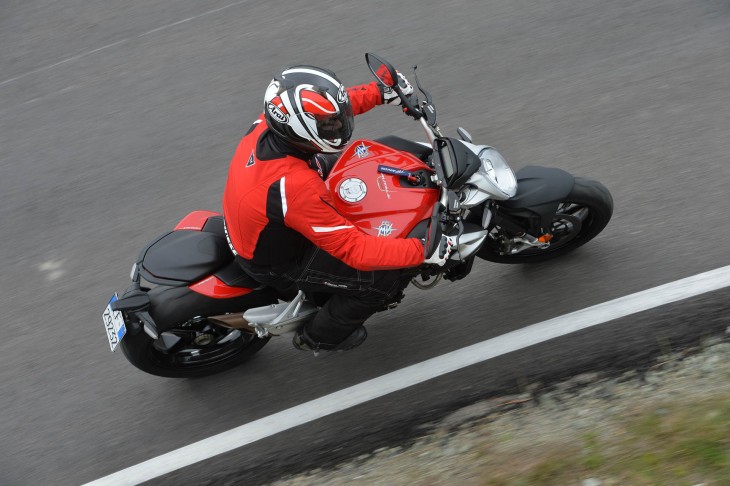 It's not easy being good looking (not that I would have first hand knowledge). If the first thing you provoke in onlookers is envy or jealousy, that can be a problem. MV Agusta makes good looking motorcycles, and they have done so for more than a decade now since the brand essentially relaunched. Always good looking, but not necessarily functioning up to the same standard.
MV Agusta considers itself a "super premium" brand, and it has had the aesthetic design and detailing to back up that claim. Having ridden the new MV Agusta Brutale 800 in southern Spain late last week, I have concluded that MV Agusta now has the function and performance chops to match up with its beautiful design. That's saying a lot, as I will discuss below.
The MV Agusta Brutale debuted 15 years ago in 2000, and was either shocking or gorgeous, or both, depending on your perspective. At the time, the unique shape of the head lamp was something that really caught your eye (it has since been copied), and the four-cylinder engine in the original promised great power for a naked. MV eventually made three-cylinder models, and ultimately 800cc versions of those triples. MV had some teething problems early on, as many brands do when they reinvent themselves, and fuel injection mapping was certainly one of them. MV ultimately sorted this out, as we discovered when we track tested the 2014 F3 800 here in California.
So I was expecting the all new Brutale 800 to be well sorted when I arrived in Spain to test it last week. Before we get into my riding impressions, let's talk a bit about what is different from past Brutales.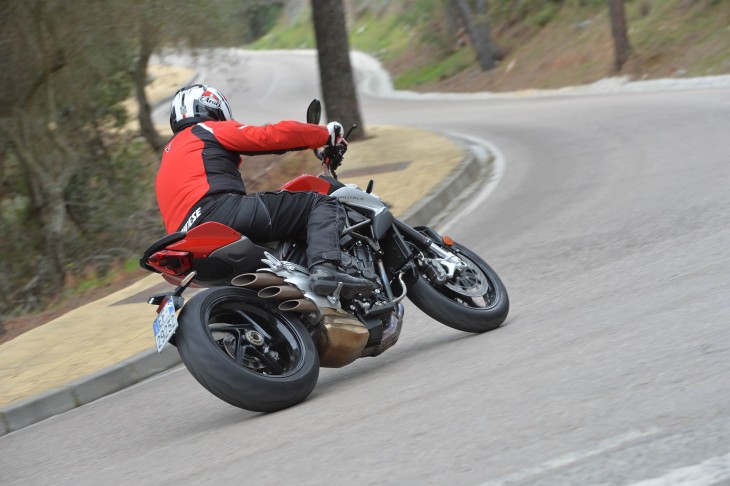 MV Agusta considers the new Brutale 800 a complete redesign, and it really is when you dig into the details. The distinctive headlamp, single swingarm and triple exhaust exits look somewhat similar to the outgoing model, but everything is new. Everything is at least subtly reshaped, but the tail section jumps out at you.  It is a minimalist design, and the see-through support for the tail section is immediately obvious. The headlamp is even different from the outgoing model, appearing thinner and more elegant.
The frame is different as well, with a wheelbase 20mm longer and increased trail. The suspension includes a 43mm Marzocchi fully adjustable fork, as well as a fully adjustable Sachs shock that works through a linkage. Four-piston Brembo calipers and 320mm rotors up front work with a single 220mm disc at the rear. Bosch provides the advanced ABS system, and new wheels are shod with Pirelli Diablo Rosso III tires.
The three-cylinder engine gets revised cam timing, new pistons and redesigned intake and exhaust systems complying with Euro 4 standards. A slight decrease in peak horsepower is coupled with a much broader and smoother torque curve, providing much improved acceleration at lower and medium rpm levels. Ninety percent of maximum torque is available all the way down at 3,800 rpm with 116 peak horsepower up at 11,500 rpm. Characteristically, the Brutale 800 engine features a counter-rotating crank intended to reduce inertia when changing directions. Both the slipper clutch and brakes are hydraulically operated.
Sophisticated electronics also provide clutchless up and down shifting, as well as eight traction control settings and three selectable fuel maps. The maps include Sport, Tourismo and Rain, which provides progressively smoother power and reduced peak power (Rain mode only offers 80 horsepower, for instance). A fourth map is labelled "Custom" which allows the rider to customize engine behavior by changing various parameters (which we did not have time to experiment with).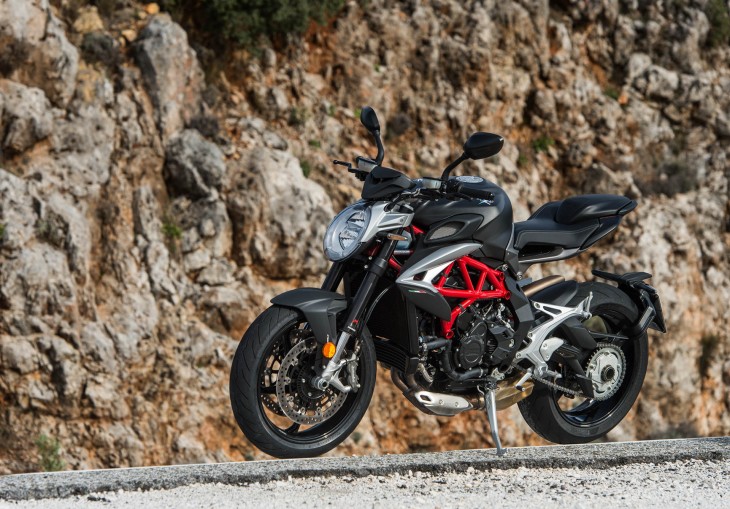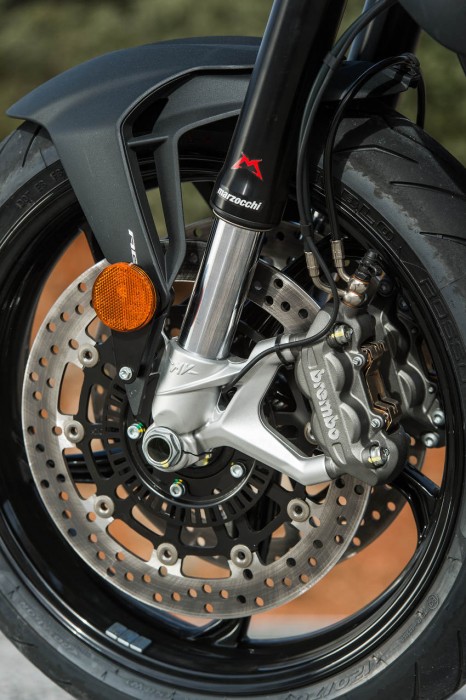 MV Agusta claims a dry weight of 385.8 pounds before filling the 4.4 gallon gas tank. Not the lightest naked around, but pretty light given the engine displacement and performance on offer.
But we weren't in Spain to look at the Brutale 800 or examine its spec sheet. We were here to ride the bike in anger up the famous Ronda Road in the Malaga region, which includes a series of fast sweepers climbing a mountain just outside Marbella. More than 20 miles long in one direction, we ascended and descended the road following an MV Agusta test rider who happened to be a former superbike racer. The pace set was essentially "as fast as you can go" except for one or two journalists with racing backgrounds, themselves. A stunning road, in more ways than one. But more about that later.
As I sat on the new Brutale 800 for the first time, the position felt comfortable and relatively neutral. Not quite as upright as some nakeds, perhaps, but the bars were still high enough to keep weight off my wrists, and allow me to keep my head elevated without any neck strain. The rider triangle, including the distance between the seat and the pegs, made sense for a bike that could serve both as a commuter and a weekend canyon scratcher.
The seat was comfortable, and continued to be so throughout the ride of approximately 100 miles. Riding hard through the sweeping turns of the Ronda, ergonomics worked very well. The slight lean forward made me feel more engaged through the corners. MV Agusta has focused hard on throttle response and fuel injection tuning since the time that it's earlier bikes stumbled (both literally and figuratively) in this category. As a result, throttle response on the Brutale 800 is outstanding … as good as any modern fuel injected bike we have tested in the last few years.
Aiding the smooth and precise throttle response is the torque curve of the new engine. This bike pulls smoothly, and with good thrust from very low rpm levels. While on the Ronda, I was able to exit corners, more often than not, in any one of three gears without significantly impacting acceleration. One of the widest power bands I can recall, and with the relatively large displacement, the triple never felt lacking. The bike cannot only pull from low revs, it continues to pull until the rev limiter cuts in. Opening the throttle mid-corner to drive out the other side did not upset the chassis whatsoever. Bottom line, the MV Agusta Brutale 800 made for a fantastic mount on the Ronda.
The fully adjustable suspension was fine set "as is" for the press launch. I didn't touch the settings, and I don't recall any of the other journalists mentioning that they wanted any changes to the fork or shock. Riders from 150 pounds on up (yours truly is currently 210 pounds) all seemed pleased. The bike is well balanced and supple enough to provide a decent ride over rough city pavement, while still holding itself high enough in the stroke, and providing sufficient damping, to deliver a very confident ride through twisty mountain roads. The bike would even work well at a track day for most riders, in my opinion.
The Pirelli tires started out feeling a bit stiff and slippery when we first left the hotel parking lot and traversed the damp morning streets of Marbella on our way to the Ronda. Soon after hitting the twisty roads, however, the tires began to deliver great grip and confidence. I found excellent feedback, particularly from the front tire. The rear end was also well planted, and aggressive throttle on corner exits never caused the back end to step out (although I did feel the rear end slide when I hit a painted stripe with a big lean angle – my mistake, frankly).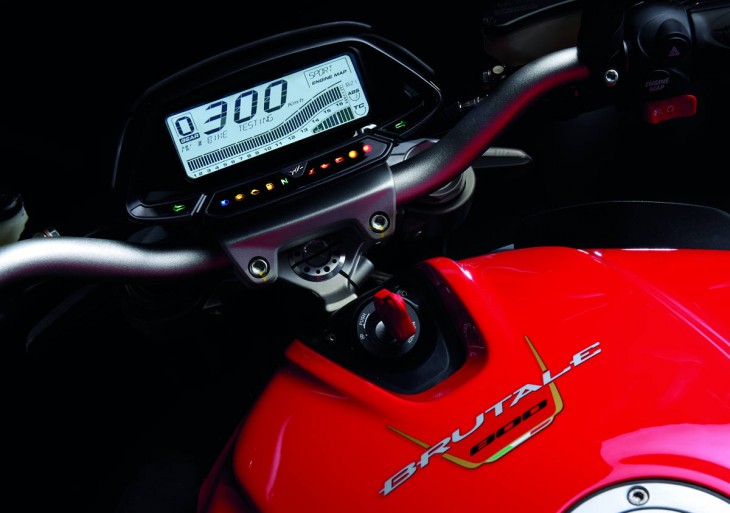 The six-speed transmission worked flawlessly, and the clutchless up-shifts and down-shifts ( which are automatically rev matched) made everything that much easier. All of the electronics seemed invisible to the rider, including the ABS brakes and the traction control – a sign of excellent engineering and testing by MV.
The brakes had awesome power and good feel, and even forgave the occasional ham-fisted application by yours truly. Semi-panic deceleration also kept the chassis remarkably composed and ready for corner turn-in.
In addition to nimble handling, the Brutale 800 tracks well in a straight line at high speeds with no nervousness. In general, the Brutale 800 is both fast and easy to ride, achieving one of MV Agusta's goals, which was to make the Brutale 800 accessible to lesser-skilled riders. Frankly, I loved the engine and the spread of power, which seemed almost perfect for street use.
Picking nits, I found the rear brake a bit touchy, and willing to lock on occasion despite the ABS. This only happened at lower speeds, and I suspect it was a combination of brake application and lean angle in slow, slippery corners. I am also not a fan of a digital tachometer, although the rest of the instrumentation is both legible and useful.
In the end, our first ride on the 2016 MV Agusta Brutale 800 left us very impressed. This is an extremely refined product not only aesthetically, but from a performance and function perspective. This bike works as good as it looks! The intoxicating howl of the triple didn't hurt.
At a U.S. MSRP of $13,498, the new Brutale 800 is by no means inexpensive, but you are getting a premium design together with a premium riding experience. Take a look at MV Agusta's web site for available colors, as well as additional details and specifications.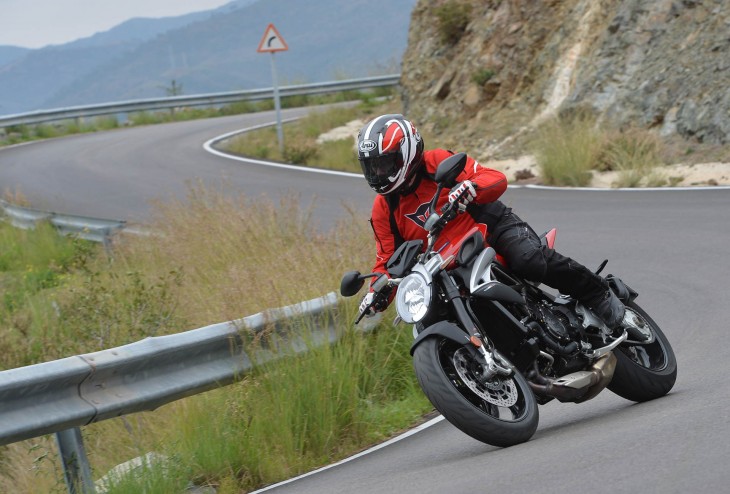 See more of MD's great photography:
Source: www.motorcycledaily.com