2016 Suzuki GSX–S1000 ABS: MD Ride Review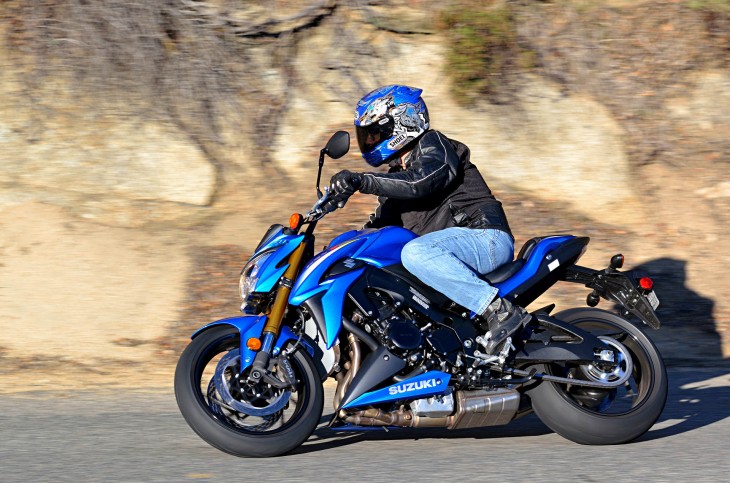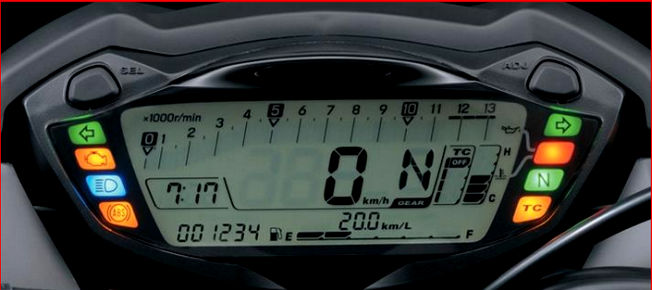 On paper, our 2016 Suzuki GSX-S1000 ABS test unit promised to be a remarkable motorcycle. Priced at $10,499 U.S. ($9,999 for the non-ABS version), the chassis components and performance specifications are impressive.
A claimed weight of 461 pounds wet (with the 4.5 gallon gas tank topped off), would make it one of the lightest Open class nakeds. The 999 cc in-line four engine, based on the "long stroke" K5 GSX-R1000, promises a very broad spread of power with a serious top-end rush that might be overkill for most skill levels. Quality components are attached to the machine, including adjustable suspension units (particularly nice is the beefy 43 mm KYB fork with separate adjustments for compression damping, rebound damping and spring preload). The brake calipers are, for this price point, quite remarkable. In front, particularly, the radial mount, four-piston Brembo monobloc calipers wouldn't be out of place on a state-of-the-art superbike.
Along with ABS, electronic aides include selectable traction control (four levels, including off). We tested with traction control set at position "1", which allowed the most aggressive power delivery with minimal interference by traction control (i.e. designed to save your ass from a high-side, but permitting a small amount of spin-up on corner exits).
As it should be, the engine is the centerpiece, both literally and figuratively, of this motorcycle. Suzuki has built a reputation – a well earned one – for building high-performance in-line four–cylinder engines. 30 years ago, Suzuki began producing the ultimate in street performance motorcycles for its brand – the GSX-R line. During the long history of its GSX-R line, a few engines became consumer favorites. One of those engines was found in the 2005 GSX–R1000 (the K5). This "long stroke" motor was prized for its broad spread of power that made it both a practical and useful street bike, while still providing a generous top-end rush for the race track.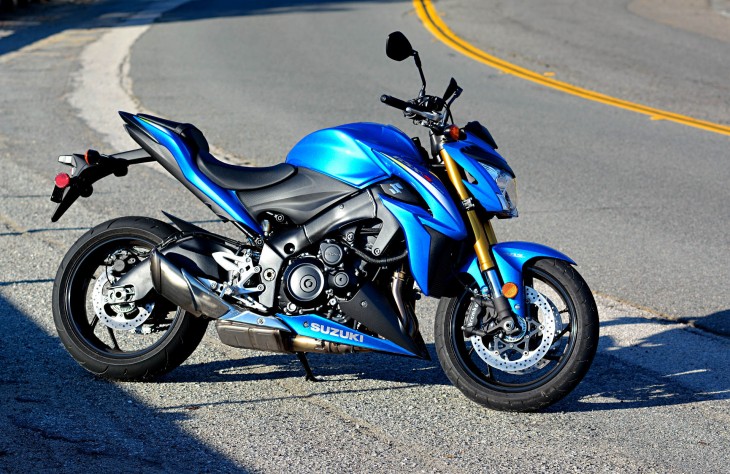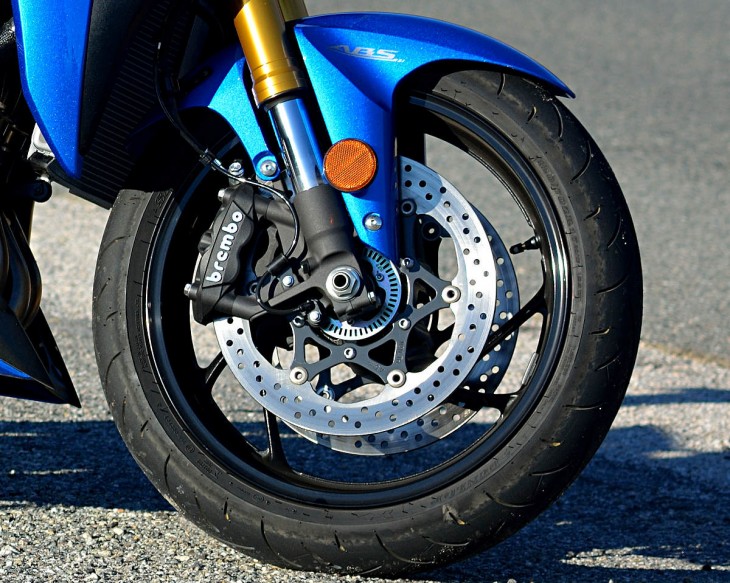 This K5 motor was the starting point for the 2016 GSX–S1000 family of models (there is also a faired version), including our naked GSX–S1000 ABS test unit. Suzuki made several changes to the original K5 engine, including a revised cylinder head design with different valves, different cam shape for different valve timing, re-shaped intake and exhaust tracts, lighter pistons, and revised fuel injection with 44 mm throttle bodies. The engine promises to run cool with a new, curved radiator, as well as a liquid-cooled oil cooler. The six-speed transmission has a fairly low final drive ratio optimized for street use and acceleration.
A twin-spar aluminum frame is stiff and light (lighter than the GSX-R1000 frame) and carries the same arched swingarm as its superbike sibling. Steering geometry is relatively aggressive, and the wheelbase is short (57.5 inches).
So before we swing a leg over our test unit, we are looking at an impressive package for the price (BMW's S 1000 R, for example, has a starting price $3,000 higher). Nothing really bargain basement on the spec sheet (with the possible exception of the shock – more about that later). A bike that potentially offers scintillating track day performance, together with the low-end and mid-range power most useful on the street. A bike that does not require replacement of the most expensive components (the fork and the front brake calipers) to be competitive everywhere.
We gave you our initial thoughts on riding the GSX-S1000 a few weeks ago. This bike is very fast (it surprised us), has suspension that responds well to adjustment, and has killer brakes. Let's dig a little deeper.
Last year, when we tested Kawasaki's redesigned Ninja 1000, we offered the following chart to illustrate to readers the fact that the Ninja 1000 is faster than high peak horsepower superbikes on the street. Here is that chart:
| | | | | | |
| --- | --- | --- | --- | --- | --- |
| Horsepower/Torque (Nm) | 4K RPM | 5K RPM | 6K RPM | 7K RPM | 8K RPM |
| Kawasaki Ninja 1000 (2011 model) | 46/83 | 61/88 | 75/91 | 95/97 | 115/105 |
| BMW S1000RR (2010 model) | 41/76 | 56/83 | 65/77 | 80/84 | 102/92 |
| Kawasaki ZX-10R (2013 model) | 38/68 | 52/76 | 65/78 | 79/83 | 100/92 |
When I picked up the Suzuki GSX-S1000 from the manufacturer's press fleet, I was told by Suzuki's press representative that it is faster on the street than Suzuki's own superbike, the GSX-R1000. Like the Kawasaki Ninja 1000, the difference is in the low-end and mid-range power, as well as the position of the peak horsepower.
As soon as I rode the bike on the street, it felt faster than both the Kawasaki Ninja 1000, and the Kawasaki Z1000 – both very quick street bikes. The Suzuki felt like it was a match for the excellent low-end and mid-range found on the Kawasakis (each of which displaces a slightly larger 1043 cc), but much faster on top. I found a useful apples-to-apples comparison on the Akrapovic web site which confirmed my seat-of-the-pants analysis.
Here are the peak numbers on the Akrapovic dyno. The Suzuki makes 144.9 peak horsepower at 11,100 rpm and 78.3 pound/feet of torque at 9,650 rpm. Akrapovic's measurement for the Kawasaki yields 127.2 horsepower at 10,150 rpm and 76.6 pound/feet of torque at 7,700 rpm. On the street, the Suzuki has a wicked top-end punch.
That top-end resides with remarkable low-end tractability, which allows the Suzuki to pull cleanly from as low as 2,000 rpm. It makes strong power from as low as 4,000 rpm, and you never feel like you need to make a downshift to accelerate quickly on the street.
The only negative to report with the Suzuki engine is a somewhat snatchy response when opening a completely closed throttle.  It doesn't feel like a fuel injection mapping error, but more like an extremely responsive engine pick-up. You can get used to this, and completely mask it by exiting corners in a higher gear.
The chassis handles extremely well. After making the suspension changes described in our earlier article, the bike felt very balanced, turned in well, and was extremely stable.
The fork is good stock, with enough damping for a track day but not for high level racing. The shock, which has spring preload and damping adjustments, was at the limit of its adjustability (less than one turn out from full hard on rebound), but worked well enough to ride the bike aggressively on the street.  Again, we think the shock is adequate to go quickly at a track day.
How well does the GSX-S1000 handle? We took the bike to Palomar Mountain here in Southern California, and easily followed a couple of knee-dragging, local riders aboard their tuned 600s up the mountain. The bike feels rock steady at big lean angles, and the traction control allows you to get on the gas early exiting corners. Acceleration is fantastic at street speeds, and would easily handle any tuned 600 at a track day on top end. Quite a motor, and a well-sorted, capable chassis.
The brakes are excellent, as expected. Good feel and awesome power. Our only complaint is Suzuki's use of a pad compound with very light initial bite, requiring a firm squeeze of the lever to stop quickly. This might be a good idea on the non-ABS model (where we could see the front wheel locking up too easily with an aggressive compound), but we would probably do a relatively inexpensive switch of the brake pads to something more aggressive on the ABS model.
Typical of Suzuki, the transmission shifted easily and decisively. The clutch handled the prodigious engine power without a shrug.
We like the ergonomics, which are relatively upright with decent leg room, but don't expect something similar to a larger, heavier sport tourer. This bike is comfortable for longer rides, but you may want to look at the faired sibling (the GSX-S1000F) if your goal is to build the ultimate sporty sport-tourer.
So what we have with the 2016 Suzuki GSX-S1000 ABS is a reasonably comfortable naked with extremely high performance that can be used as an everyday street bike, but more than hold its own at a track day. No need to replace parts to ride this bike near the edge, either.
At the same time, this bike needs to be respected and would fit better with a more experienced, skilled rider. The power comes on aggressively (and generously), and the bike benefits greatly from tuning the stock suspension to the rider's needs.
The 2016 Suzuki GSX-S1000 ABS is available at a U.S. MSRP of $10,499 in Metallic Trition Blue (pictured in this article) and Glass Sparkle Black/Candy Daring Red.  Visit Suzuki's web site for additional details and specifications.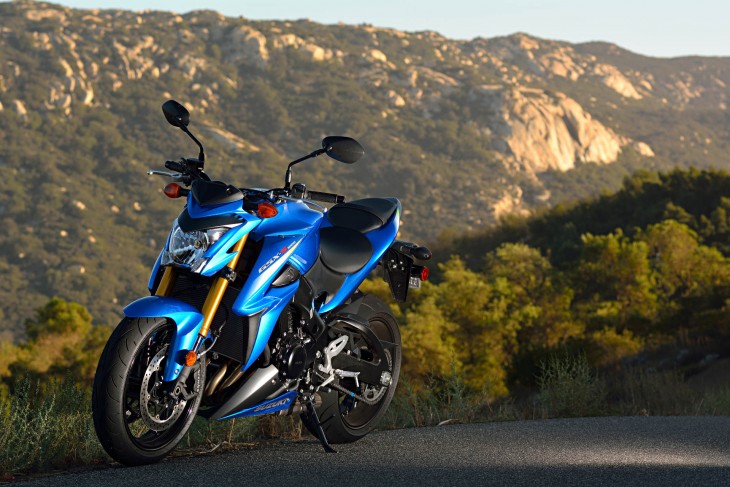 Source: www.motorcycledaily.com