Triumph Unveils New Liquid-Cooled Bonneville Family with 1200cc and 900cc Twins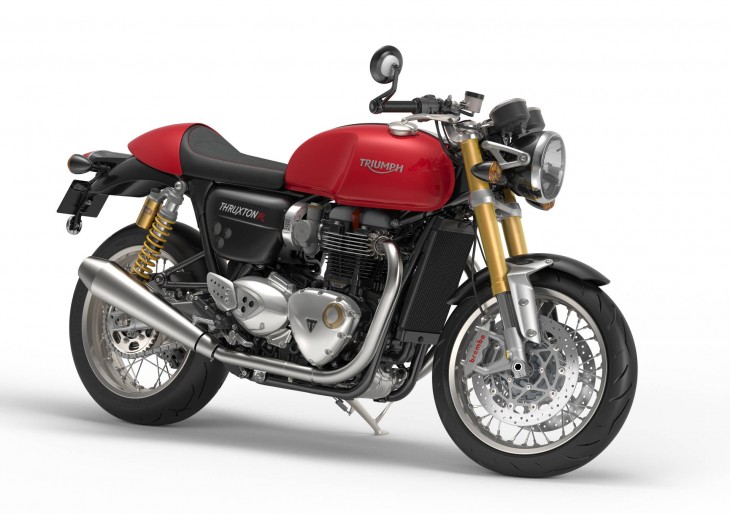 As expected, Triumph today announced a new, liquid-cooled Bonneville lineup with 5 new models. Two entirely new engines displace 900cc and 1200cc.
The 900cc twin arrives in the base model Street Twin, while the 1200cc variant has two different states of tune and is featured in the Bonneville T120 and T120 Black and the new Thruxton  and Thruxton R (the higher output 1200).
Ride-by-wire throttle and fuel injection system combines with liquid cooling for big increases in performance and fuel economy, according to Triumph. More details are in the following press release:
Introducing the next generation of the iconic Bonneville – with five exciting new Bonneville motorcycles. From the fun and accessible ridability of the new Street Twin, to the timeless style of the Bonneville T120 and T120 Black through to the Thruxton and Thruxton R, the Triumph racing legend reborn. All with 100% authentic Bonneville character and truly modern capability and performance.
Powered by an all-new Bonneville engine family built specifically for the modern classic riding style, with more torque, more immediate and exciting power delivery, and a richer sound you can really feel and hear.
With a new 'ground up' chassis and suspension design unique to each Bonneville – delivering stunning handling, comfort and control.
Each model, a beautiful evolution of the iconic Bonneville styling – tighter and more crafted, with enhanced styling cues faithfully taken from classic Bonneville bikes of the past.
Named after the salt flats in Utah where Triumph set the motorcycle world land speed record in 1956, Bonneville was THE original British Superbike and a genuine motorcycle icon, recognised the world over.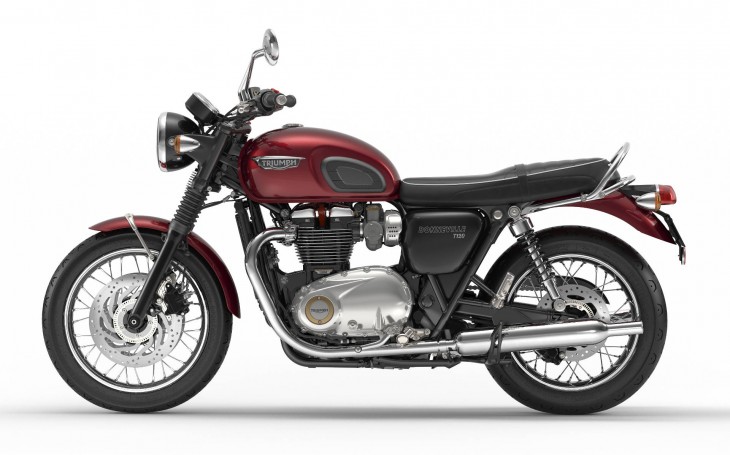 We are proud to announce the opening of a new chapter in the story of the most famous name and distinctive silhouette in motorcycling: the Triumph Bonneville.
This four year project, that started from the ground up, called on an unprecedented scale of design, engineering and manufacturing skills.
The result – the next generation of the iconic Bonneville. A family of five exciting new motorcycles with 100% authentic Bonneville character, style and presence – all featuring a class-defining level of performance, capability and quality, driven by an all-new Bonneville engine family.
With a dedicated chassis and suspension package for each new model and a carefully integrated package of rider-focused technology for enhanced confidence, control and performance, the new Bonneville family all ride and handle how a class-leading, truly modern classic should.
The new Bonneville model line up
Five all new Bonneville models – all with 100% authentic character, beautifully enhanced styling and truly modern performance.
The Street Twin is our most contemporary, fun and accessible new Bonneville, powered by an all-new high torque 900cc engine. With its unique character, distinctive sound, stripped-back styling and dynamic riding experience, the new Street Twin is the perfect Bonneville for today's rider and the perfect starting point for personalisation.
The timeless style and iconic character of the original 1959 model is reborn in the classy and authentic Bonneville T120 and effortless cool Bonneville T120 Black. Both crafted to the highest standard of detailing, quality and finish, and matched by the capability and performance of a truly modern classic. Powered by the all-new Bonneville 1200cc high torque engine, fed by beautiful, authentically styled, twin throttle bodies.
The new 1200cc Thruxton and Thruxton R are the real deal. With genuine poise, power and performance, they are the ultimate modern classic café racers. Both with beautifully imposing and authentic styling, they have the power, braking, performance and handling to live up to their legendary name. 
New Bonneville Engine family
The Bonneville engine family is the new heart of the iconic British twin. 
Built specifically for the modern classic riding style, each new engine delivers more torque, more immediate and exciting power delivery and a richer sound you can really feel and hear.
With three new engines: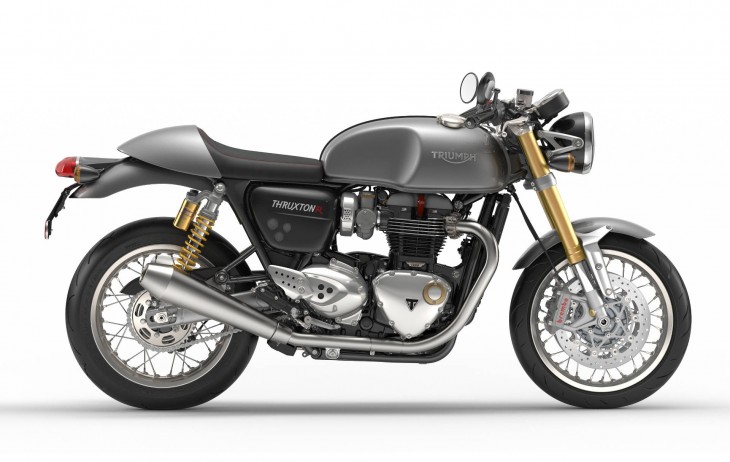 The 900cc high torque engine of the new Street Twin.
Delivering a massive peak torque figure of 80Nm at a low 3200 rpm – which is an amazing 18% more than the previous generation, delivered low down and across the whole rev range.
The 1200cc high torque engine of the Bonneville T120 and T120 Black.
Built specifically for the modern classic riding style, it produces a massive peak torque figure of 105Nm at a low 3100 rpm – more than 54% higher than the previous generation T100.
The game-changing 1200cc high power 'Thruxton spec' engine.
With immediate, exciting power delivery and a massive peak torque figure of 112Nm at 4950 rpm – an amazing 62% higher than the previous generation Thruxton.
All with truly modern capability, including the pinpoint accuracy and instant throttle response of Triumph's next generation ride-by-wire fuel-injection system, and
liquid cooling that improves fuel economy by an amazing 36% on the Street Twin alone. In addition, the 1200's all feature rider modes for enhanced responsiveness and control.
The unmistakable sound of a British twin
Each model has a totally new exhaust system and a unique exhaust note that matches its character, tuned to a level that you can feel and hear.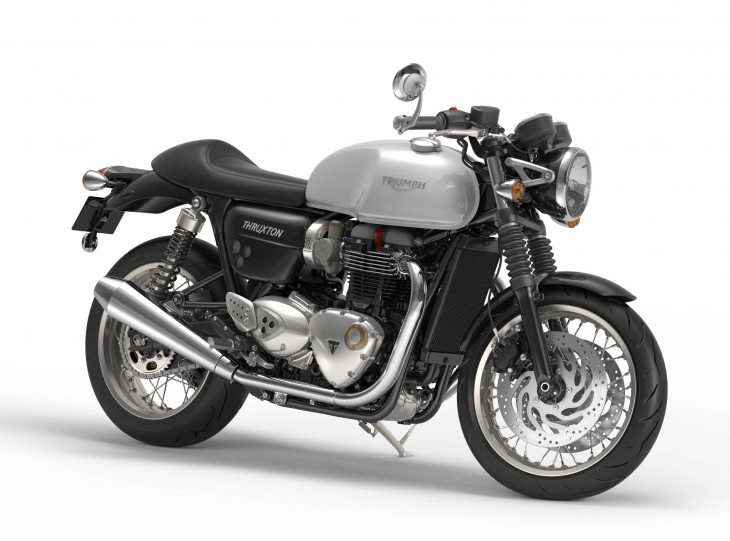 More Beautiful
Designed from original Bonneville lines, more refined, sharper, tighter and crafted, applying styling cues faithfully taken from the classic Bonneville bikes – like the 1968 Bonneville and the 1959 original.
They feature high quality finishes and a striking level of detailing to enhance their iconic looks, such as the beautifully crafted new Monza-style filler cap on the Thruxton.
An innovative approach to sensitively incorporating modern functionality, including the exhaust system on the T120 and T120 Black, which has an authentic and clean straight through design, achieved by an ingenious twin skin design that covers the pipe run, through the cat box under the bike, and out again.
More capable
The inclusion of rider-focused technology has been implemented with care to deliver an engaged and safer ride, without compromising the style or character of the bikes – this includes ABS, traction control, slip assist clutch, ride-by-wire throttle and rider modes (T120, T120 Black, Thruxton R and Thruxton), distinctive LED rear lights on all models and LED DRL headlights on all the 1200s (where legislation allows), USB charging socket and an engine immobiliser.
A completely new, ground up chassis design unique to each motorcycle, incorporates all-new suspension and geometry, so all of the new models deliver stunning handling, stability and neutrality tailored to the style and character of each motorcycle, making them easier to ride for longer. This is particularly true when combined with the light action of the new slip assist clutch.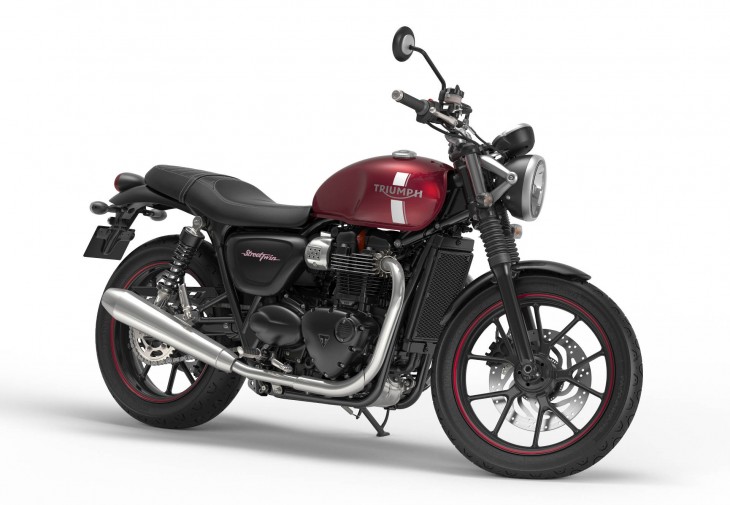 More ways to make your own Bonneville yours
With the launch of our new Bonneville custom accessories range, presenting over 470 new, stylish, high quality accessories, it's never been easier to create your own special. This includes new exhausts from Vance & Hines and a garage full of custom inspired parts, from mudguard removal kits, to bench seats and beautiful compact bullet indicators to name only a few.
To make it easier, we've also created a set of exciting 'inspiration' kits to use as the starting point for riders to create their own Bonneville custom, or to have fitted by their Triumph dealer as a complete set – from Scramblers and Brat Trackers, to Track racers and Café racers. This includes, for the first time, a full factory Thruxton R Race Performance kit, specifically developed for closed circuit competition.
An unparalleled bloodline
Named after the Utah salt flats where a Triumph 650 Twin streamliner,
piloted by Texan racer Johnny Allen, shattered the two-wheel world land speed record in 1956. First produced in 1959, the T120 Triumph Bonneville was the original British superbike and, thanks to its legendary handling, style, character and sheer individuality, it has become a genuine icon to riders the world over.
Our five new Bonneville models draw on the distinguished and unbroken Triumph heritage of performance and style, from the Speed Twin 5T, the original 1937 500cc parallel twin that set the template for British motorcycling, followed by the 1949 Thunderbird 650, famously ridden by Marlon Brando in 'The Wild One', to the rip-snorting Tiger T110, the bike that the original 59 Bonneville eclipsed with its new twin carbs and class-leading performance.
The Bonneville played a major part in the creation of modern motorcycle motorsport and was a race winner 'straight out of the crate' – from Isle of Man TT wins, to flat track racing, to the International Six Day Trial and the Thruxton 500 series, where the racing Bonneville gained its legendary name.
In its early years, it inspired a sub-culture of teenage rockers and café racers, drawing attention and turning heads at coffee bars and burn-ups all over the country – becoming the ride of choice for stars and celebrities like Steve McQueen, Clint Eastwood and Bob Dylan, and again today, chosen by a new generation of customisers and riders looking to own a real icon.
The future of the Bonneville, not a futuristic Bonneville
The interest and appeal of modern classic motorcycles is growing and evolving quickly, with many manufacturers bringing new models onto the market.
From the rider's perspective, they want beautiful motorcycles with real character and traditional values, combined with contemporary levels of refinement and capability.
Our new Bonneville family takes the legendary story to the next chapter – with a major injection of performance, and real riding capability, without losing the original character of the iconic Bonneville, and without becoming a techno reinvention with just a styling nod to the past.
They are what our customers have asked for and what the next generation of Bonneville should be – more beautiful, more powerful and more capable.
With all of the character and style of the iconic original, and the power, performance and capabilities modern riding demands, the new Bonneville family takes the legend into the 21st century.
Bonneville. Reborn.
Source: www.motorcycledaily.com