2016 Husqvarna 701 Supermoto and 701 Enduro: MD First Ride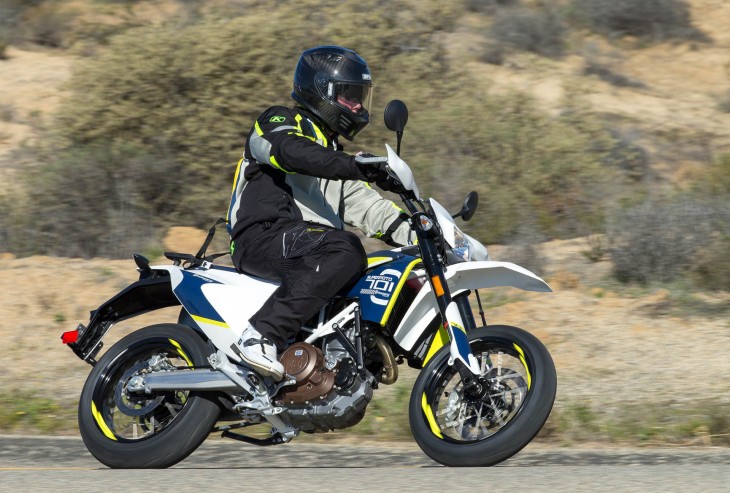 Husqvarna has two street legal models for the U.S. market this year, both featuring a potent, large displacement single-cylinder engine. The 701 Supermoto and 701 Enduro are completely new, and on paper look like they could be a single-cylinder enthusiast's wet dream.
Let's start with the engine common to each model. The 690 cc thumper is compact and light (only 95 pounds), but puts out some very impressive power. Husky claims 67 hp at 7,500 rpm and 49 pound/feet of torque at 6,500 rpm. The dyno chart shared by Husky shows close to 40 pound/feet of torque as low as 3,000 rpm, with strong power made all the way through 8,000 rpm. A big spread. Two spark plugs ignite the fuel/air mixture in the combustion chamber, which breathes through large intake and exhaust valves (four in total).
The throttle is ride-by-wire and fuel injection is via a 46 mm Keihin throttle-body. Each bike has three, selectable ride modes, including Advanced, Soft and Standard. Even a "bad" map is available for that nasty, low quality fuel you might find from time-to-time (Mexico desert run, for instance?). The engine now features a counter-balancer to reduce the vibes inherent in a big single. The transmission is a six-speed, and features a slipper clutch.
The engine is housed in a chromoly steel trellis frame that Husky managed to build at just 18 pounds. The trick sub-frame is molded from high strength plastic and integrates a 3.4 gallon fuel tank. This sub-frame is strong, with Husky claiming a passenger, luggage and even a larger fuel tank can be supported.
The two bikes feature WP suspension, but with different designs and travel. Not surprisingly, the Supermoto gets shorter travel with 215 mm (8.5″) in front and 250 mm (9.8″) in back. The Enduro, on the other hand, has 275 mm (10.8″) of travel both front and rear. The WP forks on the two bikes are also of a different design, with the Supermoto getting separate function forks featuring compression damping in one leg and rebound damping in the other. Forks and shocks on each model are fully adjustable.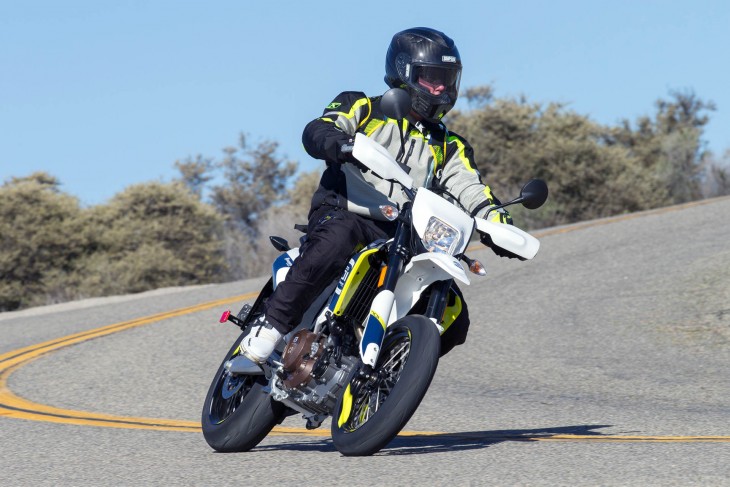 The Supermoto, of course, gets 17″ wheels and street rubber on tubeless (hooray!) rims. The Enduro gets DOT knobbies on a 21″ front and 18″ rear wheel, respectively. Each bike uses the same rear brake, a single-piston Brembo caliper squeezing a 240 mm disc. The Supermoto has a killer front brake, i.e., a huge 320 mm disc slowed by a Brembo radial-mount, four-piston caliper. The Enduro has a slightly smaller 300 mm front disc operated by a two-piston Brembo caliper. Advanced Bosch ABS braking is standard on both the Supermoto and the Enduro. An optional dongle allows the rider to adjust the ABS, such as turning it off completely or applying ABS only to the front brake (do you like to back it in?).
We spent Day 1 on the street riding the 701 Supermoto. Our test rider, Russ Somers, is an expert off-road racer. He is well over 6′ tall, but found the ergonomics of both bikes comfortable. The seat, however, is relatively hard and very slick. Easy to move around on, when aggressively riding off-road, for instance, but in general the seat could use a bit more grip. Despite this, seat comfort is not a big complaint, although there will undoubtedly be after-market, cushier units available. The Supermoto seat height is 35″, 1″ shorter than the Enduro.
With the engine map dialed to "Advanced", we set out on a street ride that allowed us to sample a variety of corners together with some high-speed straights. The first thing you notice is a very crisp, but accurate, response to the throttle by the fuel injection system. With good power right off idle, the 701 Supermoto starts to pull hard in the mid-range and begins to flatten out somewhat at high rpm levels. A good spread of power.
The accurate fuel injection allows you to pick up the throttle mid-corner, and really drive hard as the bike hits the mid-range of the powerband. The power is beefy enough to easily loft the front wheel in 3rd gear without the clutch. The six-speed transmission offers plenty of gear choices on the street and a top speed well north of 100 mph (we saw 108 mph at one point).
That new engine counter-balancer seems to make a significant difference, with engine vibration a non-issue. You still know you are riding a big single, but even at steady throttle at higher speeds, the motor is smooth. Rubber-mounted handlebars don't hurt. If you can get the seat comfort to work for you, this bike would definitely be workable as a part-time commuter.
The slipper clutch makes it virtually impossible to lock up the rear wheel when aggressively downshifting and keeps the chassis balanced entering corners. This is a good thing given the handling limits of the Supermoto … which are extremely high.
Although easy to ride with that smooth, linear power and comfortable ergos, the 701 Supermoto can come alive under a skilled pilot. At a claimed 330 pounds dry, this bike is an absolute blast to ride, and it can attack tight, twisty canyon roads in a way no sport bike can. The tighter the better! The tires stuck like glue, and never felt like they were about to break traction (unless you chose to purposely lock-up the rear wheel – we had the bike set up with ABS turned off in back). The brakes are excellent, particularly that stout Brembo front brake, which seems to have power to spare with plenty of feel and feedback.
Day 2 was spent off-road on the 701 Enduro. We covered some high speed stuff, such as fire roads, as well as more technical terrain (some strewn with rocks). The 701 Enduro proved to be a very serious off-road weapon for a street-legal dual sport. Not too surprising given the heritage of Husqvarna Motorcycles. The Enduro has a slightly longer wheel base and more relaxed steering geometry than the Supermoto, and for a dirt specialist like Russ it feels like a big bike off-road. Claimed dry weight is down a bit from the Supermoto at 320 pounds.
If the engine felt like more-than-enough on the street, there really was no off-road situation where the rider wants for more power for different gearing. First gear on the Enduro is extremely low, and once underway rarely used. Being a six-speed, however, there was still plenty of gearing to accomplish just about anything a rider wants. From lower speed rock crawling all the way to an indicated 100 mph, the big 690 cc mill always answers your right wrist with a resounding "Yes".
The longer travel suspension on the Enduro is set up well. Although Russ is heavier than the average rider, the suspension remained reasonably plush and reactive despite sitting lower in the travel than it would for the target 165 pound pilot. Traction from the stock Continental TKC80 tires was good, particularly from the rear. The front tire washed out on occasion, but it was difficult to tell whether this was a result of the tire design or the fact Husky was running 23 psi to avoid pinch flats during a day that included more than 100 miles of mixed off-road and street terrain.
The 701 Enduro handled well, both through choppy, high-speed stuff and in the corners. Bigger and heavier than a motocross bike, for instance, cornering technique has to respect the size and weight of the 701. Given its role as a high-speed dual sport, we really can't complain about the handling. "Balanced" might be a good description, and controlling power slides off-road with the throttle was a piece of cake.
On the street, the Enduro offered decent grip in corners (not as much as the Supermoto, of course) and tracked straight and steady at higher speeds. The front brake lacks the outright power of the Supermoto, but during our test it never failed to offer up sufficient braking power.
Husqvarna claims a 6,200 mile service interval, and we are not in a position to comment on reliability at this point. Nevertheless, given the fact that this bike is developed from the 690 cc KTM that has been around for several years (and is now much smoother thanks to the counter-balancer), we would expect both 701s to provide many miles of grin-inducing travel for owners.
Both of these bikes are impressive. You are not going to find a more powerful single-cylinder engine, particularly one as smooth and usable. The chassis on both bikes is rock solid, the ergos comfortable, and the suspension well damped. You can tell Husky did a good job testing, and setting up these new machines. If you love single-cylinder bikes, and can imagine a 690 cc without significant vibration problems, be prepared to fall in love. Your choice of the Supermoto or the Enduro depends on the type of riding you do, but we don't think you would go wrong with either choice.
Both bikes are priced at $11,299 in the United States. Take a look at Husqvarna's web site for more details and specifications.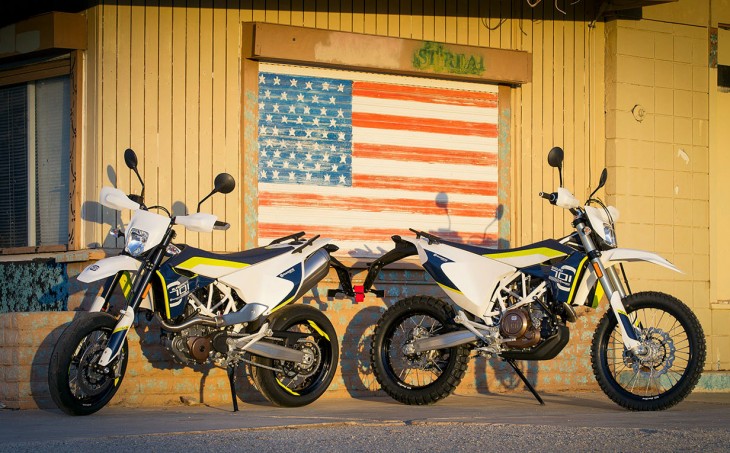 See more of MD's great photography:
Source: www.motorcycledaily.com