2016 Yamaha FJR1300A and 1300ES: MD First Ride (with video)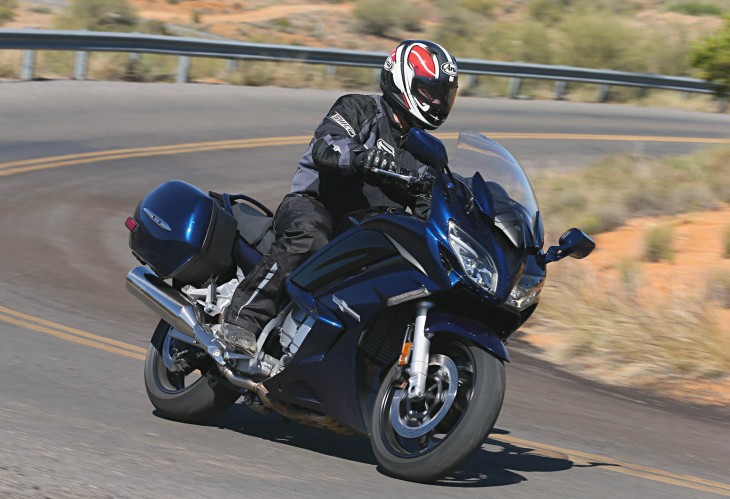 I just returned from testing the 2016 Yamaha FJR1300 models (both the A and the ES) in Arizona, and have the following report (both written and video). Before we get started with my riding impression, let's review the specifications of the bike, particularly what is new for 2016.
Yamaha's FJR1300 has been around in the same basic configuration since it was introduced back in 2003. That original FJR had a very modern engine design with plenty of displacement and torque, and Yamaha, rather than radically change the model, has focused on periodic refinement. The big 1298 cc inline four, for instance, gained more sophisticated features, including ride-by-wire throttle, adjustable engine maps, traction control and cruise control.
MD last tested the FJR1300 in 2013 when new styling and several of the electronic aides were first introduced. We were again impressed that the changes made by Yamaha effectively improved an already excellent sport tourer. Now, we have made our first evaluation of the changes for 2016. The following table summarizes the changes to both the 1300A and 1300ES:
If you have been following the development of the FJR1300, you know that it is one of the last, modern sport touring motorcycles to feature a five-speed transmission. In the past, both  owners and journalists have typically said something like "This big, torquey engine only needs five speeds", and that was true. But "needs" does not always equal "wants", and the new six-speed transmission in the 2016 models make a big difference.
If you didn't think your old FJR was buzzy or busy feeling at highway speeds, riding the 2016 FJR might change your mind. Sixth gear is 10% higher than last year's fifth. It may not sound like much, but the drop in rpm levels at highway speeds makes the big FJR feel noticeably more relaxed … refined, even. Undoubtedly, lower rpms while cruising the highway will also improve fuel economy.
It isn't just the new sixth gear, however, that makes a difference for 2016. The gear spacing in the lower gears feels much improved, as well. With an extra cog, the lower gears can be spaced more tightly — leaving the rider with the right gear for the right moment more often, and frequently with at least two gears available to do the job at hand. Additionally, Yamaha moved from straight cut to helical gears for 2016, significantly reducing "gear lash" — furthering the sense of refinement. For reference, here is some information on the gear spacing changes for 2016: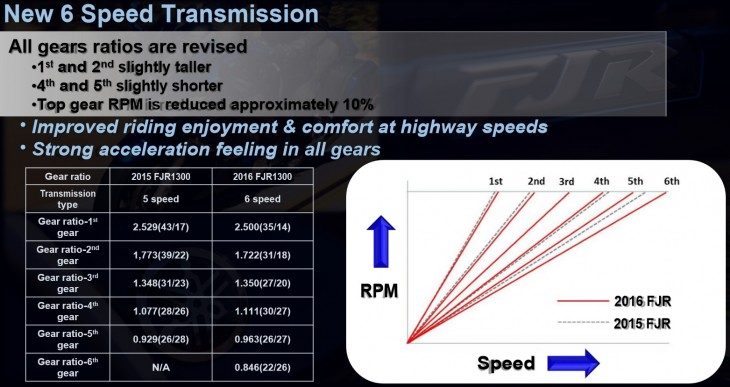 Also new for 2016 is the "Assist & Slipper Clutch", which uses engine acceleration and deceleration forces to increase and decrease clutch engagement where appropriate. So in addition to the benefits of a slipper clutch (smoother corner entry, for instance), Yamaha was able to reduce the spring tension in the clutch basket to allow for an easier clutch pull (Yamaha claims 20% less effort).
Both models also receive new LED lighting for 2016, including headlight, taillight and turn signals. The 1300ES also receives three additional headlights that engage progressively as the bike leans into corners, illuminating through the corner. We discussed this feature in an earlier article. Since we have not ridden either model in the dark, we cannot comment on the effectiveness of this feature. We will test this when we get a test unit from Yamaha for a full ride review.
The FJR1300A has new suspension for 2016 from KYB, replacing the prior suspension manufacturer for this model. The fork is a very beefy 48mm, with full adjustability, while the shock is adjustable for rebound and spring preload. Of course, the new suspension units have different damping characteristics that we were able to test.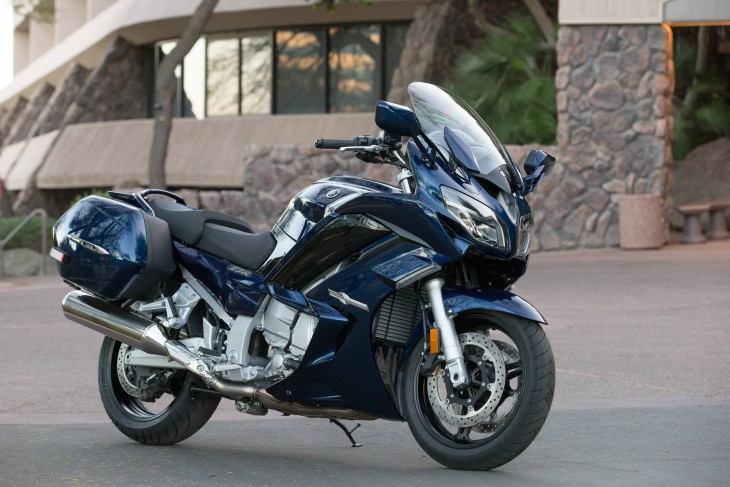 The instrument cluster has also been revised, and includes an anti-glare treatment. We found the legibility and contrast of the LED readouts excellent, even in bright daylight (a direct sun bounce off the face of the gauges is still a problem, but that is to be expected). Handlebar controls continue to allow the rider to adjust numerous features, including heated grip temperature, windshield height and, with the ES model, suspension settings that range from single rider with no luggage to rider and passenger with luggage. Deeper menus allow fine tuning of settings such as grip warmth and suspension damping levels. Indeed, there is so much adjustability it takes a bit of learning, but ultimately it is logical and easy to remember how to access different functions and make adjustments.
Other returning, standard features include a huge 6.6 gallon fuel tank ride-by-wire throttle with two selectable engine maps (including Sport and Touring), the aforementioned cruise control and traction control, ABS brakes (including, actuation of a single front brake caliper piston when using the rear brake pedal), the electronically adjustable windshield and 12 volt power outlet.
The saddlebags are standard, as well, and each of them will accommodate most large, full-face helmets (including my large Arai). The ergonomics are adjustable in that there are two seat heights available (20 mm range of adjustment) and the handlebars can be slid either 5 mm closer to, or further from, the rider.
We rode both models with the seat in the standard, taller position and the handlebars in the standard, central position. The reach to the ground was reasonable for my 5'11" frame (not completely flat footed, however), and the reach to the bars required a very slight forward lean (not quite bolt upright). The seat is firm and very supportive, and in general I found both FJRs very comfortable. A lengthy stint in the saddle, droning down the highway, did yield some discomfort. Some riders, particularly those who tour a lot, will benefit from an aftermarket seat, but most riders won't bother changing it. The riding position itself felt close to perfect for long-distance touring.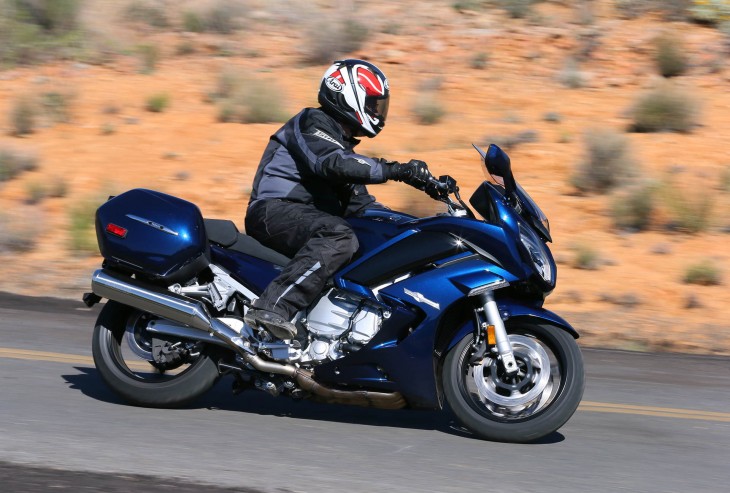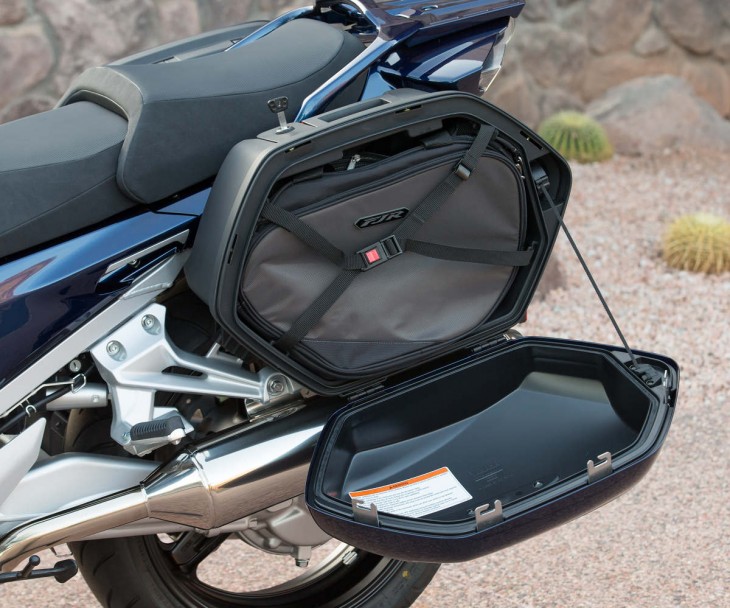 Wind protection is excellent, and many riders will be able to dial in a windshield height that minimizes buffeting at the helmet level. Taller riders may keep the windshield in a lower position in order to provide smooth air flow at helmet level, however.
A relatively light throttle return spring and noticeably lighter clutch pull also help on longer rides, as does the standard cruise control that is very easy to engage and even fine tune (add or subtract 1 mph at a time) with a simple push of the left thumb. There are also air louvers in each of the side fairing panels that allow adjustment of air flow to the legs.
Throttle response and fuel injection mapping is nigh perfect (Sport mode is a bit snappier in its response, but still linear and predictable). The smooth throttle acts together with the reduced gear lash and slipper clutch to make riding, including aggressive riding, easy and more controllable. Whether opening the throttle on corner exits or quickly down-shifting on corner entries, the big FJR stays poised and balanced. Pretty impressive stuff.
Acceleration is strong in the lower gears and adequate at highway speeds in the overdrive sixth gear. If you are loafing along in sixth gear under 70 mph, a quick downshift might be necessary to pass, particularly two-up with luggage, but generally the bike has enough grunt to do the job even at rpm levels under 4,000. Just like any other inline four there is some vibration, perhaps most noticeable around 5,000 rpm (well above highway cruising speed in sixth). Vibration is well controlled, however, and it never became an issue or caused any significant discomfort during our test.
The new suspension on the 1300A worked extremely well. Smooth enough for touring, it was only slightly less plush than the electronic suspension on the ES (which absorbs small, choppy bumps superbly). More impressively, the non-electric suspension on the 1300A, particularly the fork, provided excellent feel and feedback that generated confidence while cornering and braking. The Bridgestone tires contributed here, as well, with good cornering grip and decent bump absorption compliance.
The brakes offered good power and feel, and the linking function (which engages a single front piston when the rear brake is applied) became invisible to me while riding at most speeds (normally, linked brakes annoy me because I have a particular corner entry technique with the rear brake). Initially, during stop-and-go riding in town, I felt even a light application of the rear brake resulted in a somewhat abrupt reaction from the front end (including mild brake dive). I stopped noticing this tendency, as well, after riding the bike a bit more.
Another "nanny" feature I didn't care for, at first, involves Yamaha's decision to add an additional 200 rpm as you let the clutch out from a stop. Intended by Yamaha to reduce stalling, initially an experienced rider will simply feel that he/she has lost exacting control of the throttle when leaving a stop. This sensation seemed to go away eventually, as well.
Both the 1300A and ES handle very well for their size (claimed wet weight in the neighborhood of 640 pounds). With the 6.6 gallon fuel tank freshly topped off, there is an increased sense of top heaviness, but generally both FJRs feel relatively compact and light for luxury sport tourers. Kawasaki's Concours 14 weighs roughly 50 pounds more, by comparison, and has a slightly taller standard seat height.
With good leverage at the bars, the FJR can be hustled through the twisties without too much effort, and can even change directions relatively quickly. The video below might give you some sense of this fact. Mid-corner, the FJR is also stable and composed, and largely undisturbed by most bumps.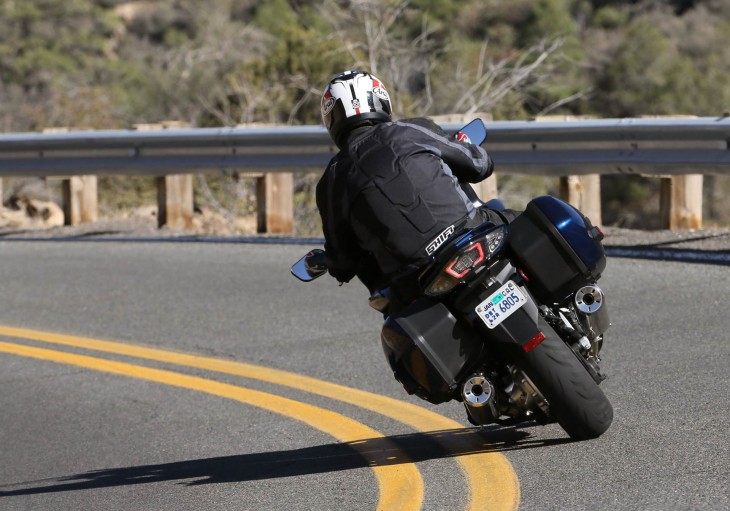 At higher speeds on the highway, the FJR is also very stable and composed … just as a long-distance tourer should be. With the excellent cruise control, comfortable rider triangle, well damped suspension and ample wind protection (including electrically adjustable windscreen that can stop anywhere within a generous 5.1″ range), the FJR is ready to ride as far as you might like. The fact that you can also enjoy a romp through a tight canyon road to break the monotony of the superslab adds to the return on your investment.
Based on our initial ride of both models, it appears Yamaha has again improved an excellent platform for riders that are looking for a luxury sport tourer. The FJR1300A is priced at an U.S. MSRP or $16,390, while the FJR1300ES is $17,990. Both models are available in the single Blue color pictured. The bikes are available now at U.S. dealers (although California models are not available until April). For additional details and specifications, visit Yamaha's web site. You can also take a look at our video immediately below.
See more of MD's great photography:
Source: www.motorcycledaily.com