Maserati V8 powers leaning quad bike
How would you like a four-wheeled leaning motorcycle powered by a 350 kilowatt, 4.7-litre V8 engine from a Maserati?
If that's your order, then French motorcycle and car customiser Lazareth can do it. In fact, they've done it. It's called the Lazareth LM 847 and it's been shown at the Geneva Motor Show.
There have been other leaning four-wheeler concepts before powered by all sorts of massive engines and they've even featured in moves such as Tron and Batman.
In real life, Yamaha seems to be leaning ('scuse the pun) towards producing leaning multi-wheelers.
READ ALL ABOUT IT
However, this leaning quad has been made on-spec for the Geneva Motor Show to demonstrate just how clever these French customisers are.
Quite frankly we much prefer some of their other custom bikes such as this Triumph Bonneville Scrambler.
The Lazareth LM 847 is powered by the Ferrari/Maserati engine from the Maserati Quattroporte and Alfa Romeo 8C.
There is no word from Lazareth on how much it costs, but we suspect it may even be more than a Quattroporte which is currently more than a quarter of a million dollars!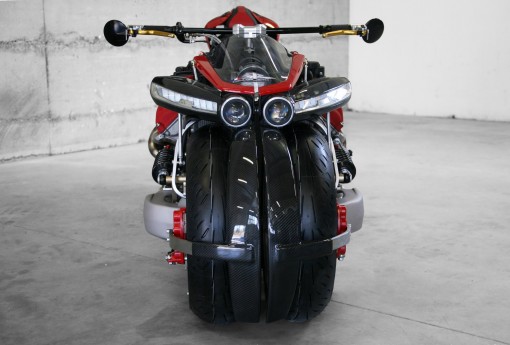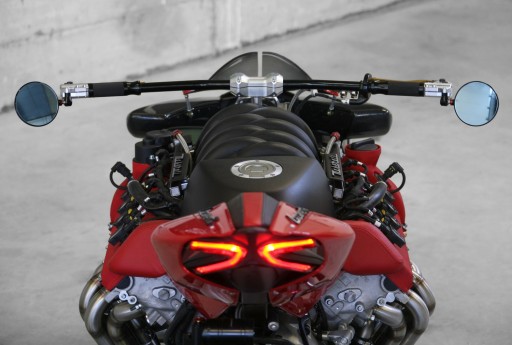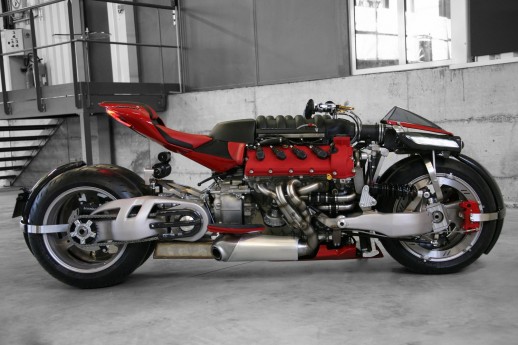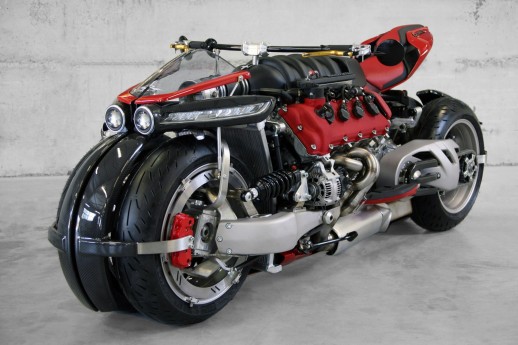 Lazareth LM 847 tech specs
Engine: V8 4.7L Maserati 32-valve cylinder:  4691 cc displacement Collector:  2 stainless steel manifolds 4 in 1
Transmission: 1-speed hydraulic coupler with chain drive
Power: 470hp at 7000 rpm
Torque: 619Nm at 4750 rpm
Brakes: Dual 420mm discs perimeter stirrups, Nissin 8 pistons; dual 255mm Brembo 4-piston disc
Tyres: Michelin Power Cup Evo
Length: 2650mm
Width:  900mm
Height: 1000mm
Wheelbase: 1850mm
Weight:  400kg
Chassis: polyester and carbon
Shocks: TFX Suspension Technology
Source: motorbikewriter.com