Slow and Steady – Improving the the 2023 Suzuki V-Strom 1050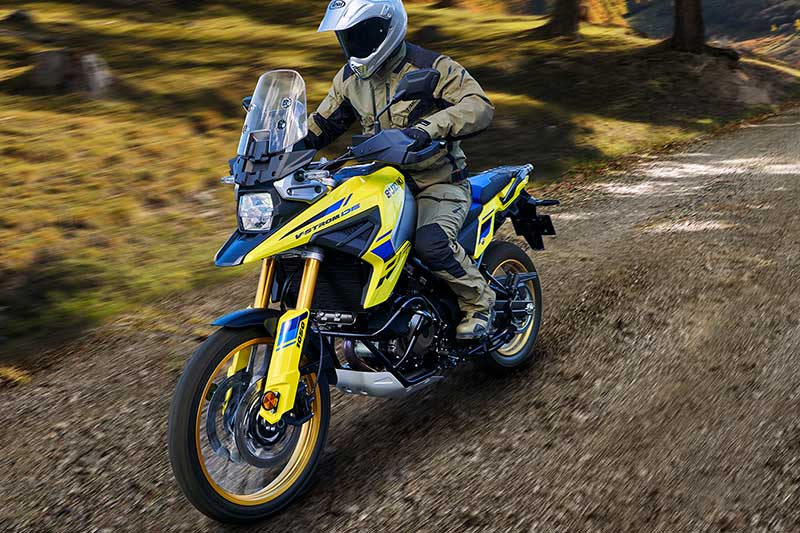 Suzuki continues it long standing tradition of improving a motorcycle at a slow and steady pace. Often nothing too dramatic happens but inevitably the bike gets just a little bit better. But are good but visually unnoticeable improvements the way to grow a model – especially when that model holds a very specific niche in the market place? Case in point, the 2023 Suzuki DL1050 aka the V-Strom 1050. The big Strom has long been the affordable alternative for riders looking for a big, powerful ADV machine capable of some dirt backroad exploring will also providing sporty on-road handling.
As mentioned the 2023 DL1050 looks a whole lot like the departing 2022 model and the "new" V-Strom 1050DE looks a lot like the old 1050XAA with the addition of a topcase to compliment the existing side hard cases.
What do you get in terms of improvements on the V-Strom 1050 for 2023?
A bi-directional quick shifter (more at home of a sport bike but hey, what the heck), a gravel mode that allows for switching off the rear ABS (that is a good one), a stronger drive chain with sturdier links and pins (always good), new hollow sodium-filled exhaust valves that is said to reduce temperatures in the combustion chamber ( sounds like it makes good sense even if you don't notice the change). Beyond that there are updates to the throttle feel, improved seat rails for better support, and a change to the cruise control to allow for a broader range of speeds. Faster or slower isn't specified. There is a longer wheelbase and swingers for improved stability, longer suspension travel, wider footpegs, wider and thicker handlebars and a new more rugger front fender.
In the big scheme of things, a good bike just got a little bit better. It won't blow your mind but it will make the ride and experience more satisfying.
A more dramatic and noticeable change is the price. The V-Strom 1050DE is $18,999, up from $17,799 for the 2022 1050XAA.
The post Slow and Steady – Improving the the 2023 Suzuki V-Strom 1050 appeared first on Canadian Biker Magazine.