TALKING POINTS – Aragon: "A crazy start"
Catch up on some of the hottest topics from MotorLand, including Lap 1 mayhem, missing mojo and LCR's injury worries
The Aragon Grand Prix was choc-full of action, with fans treated to an incredibly dramatic affair across 23 laps which saw big names exit early and a last lap overtake deny an historic five in a row! MotorLand certainly kicked off the triple header in sensational fashion, and it has left plenty up in the air for discussion, so these are some of the biggest talking points from the weekend gone by.
"A crazy start" – Lap 1 drama has riders talking
Marc Marquez: "I'm sorry to Fabio. He is fighting for the Championship. It was a complete race incident as he said. At Turn 3 I saw in front there was contact between Aleix [Espargaro]and [Enea] Bastianini. I was trying to catch the grip, not to overtake, just to find position. I had a small slide, but Fabio was very close to me because I think he was trying to overtake at Turn 4 or 5 and it was completely unlucky. I'm very sorry to him.
"Then everything was a consequence. At Turn 5 I felt something strange but then the point arrived at Turn 7. I saw some people who misunderstand say I went to Nakagami, I mean, I was completely straight. I'm not a guy who goes to the left when I'm completely straight. The problem is at Turn 7, I engaged the rear device and when I did that, Fabio's fairing was inside my wheel. When I engaged the device, I felt the bike and rear tyre lock and it then went to the left side and decreased the acceleration.
The reason why Nakagami and Marquez clashed after T7 18/09/2022
Fabio Quartararo: "Many riders lose the rear, and some riders cut the line a bit and I just hit Marc in the back and that's what happened. Nothing heavy, just burned the front [of my body] a bit. Nothing broken.
Aleix Espargaro: "I feel bad for Fabio. I didn't see the crash but luckily, he is ok physically. Now the Championship is very close"
Marco Bezzecchi: "I don't know really what happened. I just saw Fabio on the middle of the track and then the bike. But where I lost the most, it was during the Taka Nakagami incident, because his bike stayed in the middle of the track. I chose the outside line, but his bike was sliding so fast. So, to avoid it, I had to release the break, overtake the bike and then go wide into T8. Fortunately, I could survive let's say. This first lap was a bit crazy."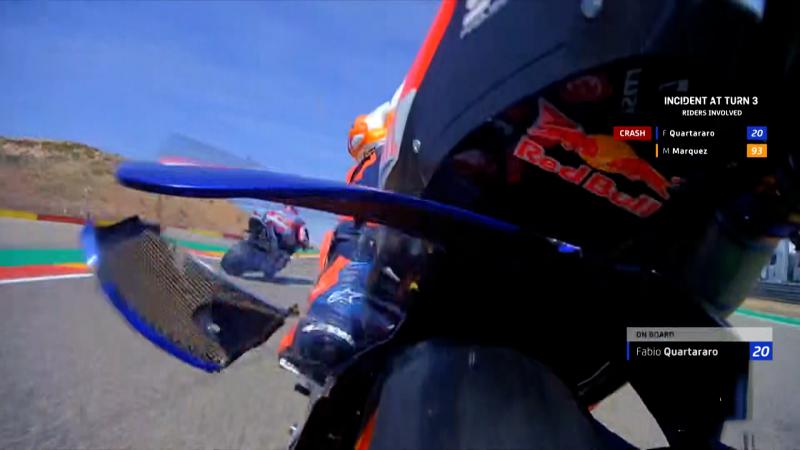 Drama on lap 1 as Quartararo and Marquez collide! 18/09/2022
Franco Morbidelli: "The beginning of the race was a mess. I needed to avoid the mess with Fabio and then two corners later I saw another bike on the ground in the middle of the track, so I lost some time there."
Darryn Binder: "It was a really crazy start to the race. Obviously with the crashes at the beginning with bikes on track, unfortunately when Taka had his crash, the bike was sliding right next to me on the track and I had to go off the track to be able to rejoin and I lost time on that which was a little bit unfortunate."
"I seem to have lost my flow" – Is Morbidelli missing his mojo?
Franco Morbidelli: "I became a rider that is pretty quick and fast in tight conrers and brakings, but I seem to have lost my flow into fast corners… I hope it's a problem with the bike [and not from me]. I like to make fast corners. I hope I haven't lost one of my strong points from the past."
Problems mount for LCR
LCR boss Lucio Cecchinello has a headache going into the Japanese GP, with both his riders sustaining injuries at MotorLand. Takaaki Nakagami's resulted from the collision with Marc Marquez, while the younger Marquez brother Alex also cast doubt on his participation after admitting to a pain in his hand after a big Warm Up crash on Sunday.
Takaaki Nakagami: "I'm now going to Barcelona to check the wound on the fourth and fifth fingers on my right hand. I will keep everyone updated and really appreciate all the support from my fans."
Alex Marquez: "I have a pain in the hand. It's not really clear what I have, if I have a small fracture or not, I'm not really sure. One hour before the race I was still deciding if I could race or not. I did two warm up laps just to see my body and it was not really good."
You can read more about their injuries HERE.
"In the last races he's doing some, let's say, not so respectful things"
Aprilia's Aleix Espargaro pulled off quite the salvage job in Saturday's qualifying, coming through Q1 after a tough weekend which helped build the platform for his podium success. However, not everyone was pleased with the number 41 during the session, with Fabio Di Giannantonio (Gresini Racing MotoGP™) feeling that he interrupted his chances of setting a time attack.
"I think in the last races he's doing some, let's say, not so respectful things. Because for example this one, it's quite clear he was in the middle of the line when his lap was gone… I had to completely close the throttle, because if not, I will go up his rear end."
The incident was looked into by the stewards, and they cleared Espargaro of any wrongdoing in this case.