TALKING POINTS: Malaysia – "I need to fight for the win"
Constructor orders, on track collisions and the season finale title decider are among the hottest topics from the weekend in Sepang
The Malaysian GP certainly brought no shortage of drama as Pecco Bagnaia (Ducati Lenovo Team) took victory ahead of Enea Bastianini (Gresini Racing MotoGP™), with Fabio Quartararo (Monster Energy Yamaha MotoGP™) producing a sensational effort from P12 on the grid to claim a podium and keep his hopes of retaining the World Championship alive. There's plenty to discuss from a scorcher in Sepang, and below you have some of the biggest talking points from Round 19 of the Championship!
"The only thing I need to do is fight for the win"
After a stunning penultimate weekend of 2022, the title fight is going all the way. Bagnaia and Quartararo both produced world class rides to come from P9 and P12 to P1 and P3 respectively, and ensure that the season finale will act as the decider.
Bagnaia: "Now I can relax. The weekend was quite tough for the mistakes I did yesterday. For Valencia, we like to understand that we can be strong enough without forcing as I did yesterday. Today the race was the demonstration that our pace was good enough without doing crazy things."
Easier said than done: Bagnaia won't rest on his laurels 23/10/2022
Quartararo: "I didn't expect Pecco to win. In the end, the most important for me is that I enjoy this race. It's been a long time since I've enjoyed being on the bike, especially during the race. So, pretty happy. Let's see. Valencia is a track that I like. Last year was not our best race, but the only thing I need to do is fight for the win. Then we will see, but at least I want to enjoy the last race."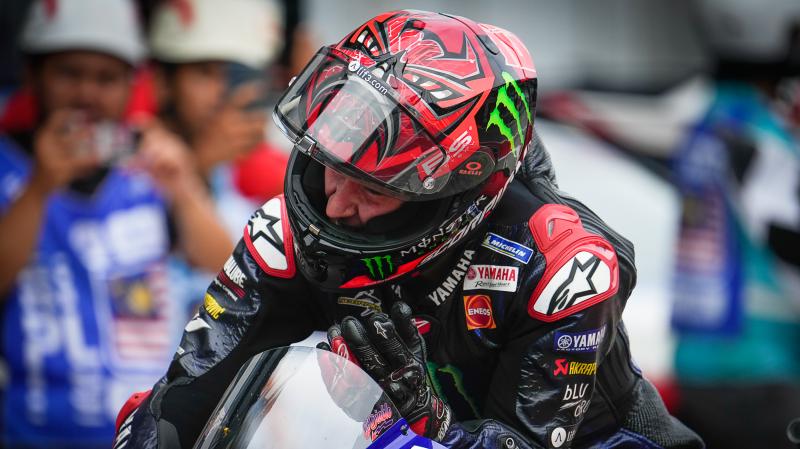 Ride like a devil: Quartararo takes title fight to Valencia 23/10/2022
"The first person you want to beat is your teammate"
Bagnaia took the win, but it most certainly wasn't handed to him as he had to fight tooth and nail to get past and then hold off his Gresini Racing counterpart and future teammate Enea Bastianini. Over the past few weeks, we've seen some great battles between Pecco and 'The Beast', and it certainly makes for an interesting dynamic in 2023.
Bagnaia: "It will not be easy, but we have to try to do a good work. For sure, it's different compared to now because he's another person.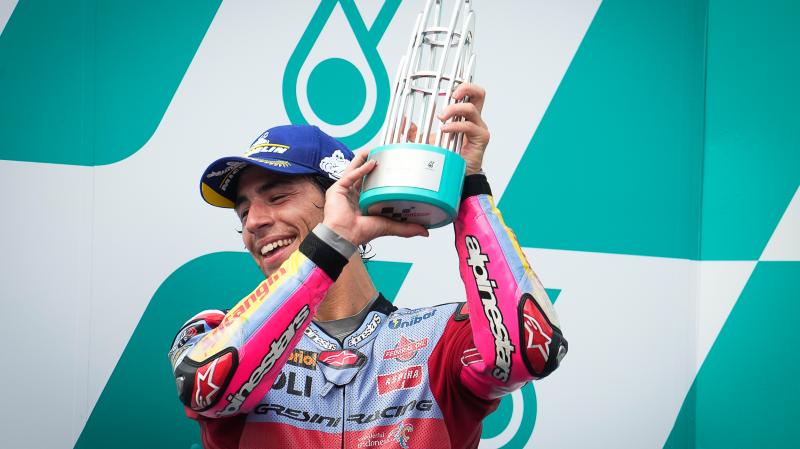 Bastianini details why it was "impossible to overtake Pecco" 23/10/2022
"I want to say that it will be a different situation because he's another person and I think at the start when you arrive to the factory team, you have to adapt a bit to the work with all the engineers. So, it will not be easy for him at the start in the test, but then in the championship, it will be the same. Like always, the first person you want to beat is your teammate. It will be like this for all the years.
"There will be constructor orders, a Ducati must win in Valencia"
On the topic of teammates, Ducati Sporting Director Paolo Ciabatti has said that constructor orders are go in Valencia! The Bologna bullets chief is desperate to bring a first Riders' Championship back to the Borgo Panigale factory since 2007, and they must do everything in their power to stop Quartararo from taking the win.
"There will be constructor orders, a Ducati must win in Valencia regardless of the rider. If a Ducati wins, then Fabio, even if he comes second, he cannot win the Championship," he said post-race in Malaysia.
Constructor orders are go: "Ducati must win in Valencia!" 23/10/2022
"The last four races were a nightmare"
It's been a tough run of form for Aleix Espargaro on the Asian leg of the tour, with the Aprilia rider seeing his credible title tilt come to an official end in Sepang. It's been a heck of a year for the Noale factory and the number 41, but he was still heartbroken to see his 2022 World Championship dream end.
"I'm very disappointed today. I'm very sad. I'm very proud of everybody in Aprilia, of myself, of my teammate of everybody in Noale. What we did this year is amazing, historic, it will be forever. It will last forever.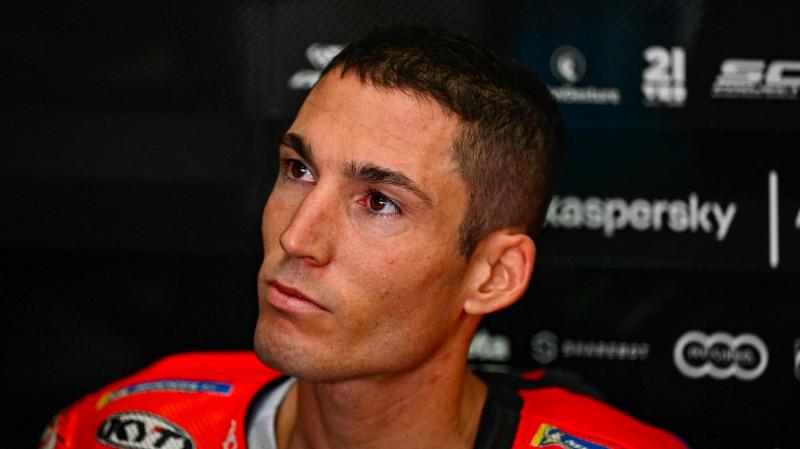 A. Espargaro: I'm proud but it's been a nightmare recently 23/10/2022
"But at the same time, the way we ended the season. It's a bit sad, because if we could maintain our level in the last four races, we would have arrived in Valencia with a chance. But we really lost it. It looks like the dream was too big for us yet. So hopefully we can learn about it and be more ready for the future.
"Believe me I tried everything I could, I really pushed like hell until the last lap, knowing that every single point is important for the third place of the championship. But it was not enough. I was very slow. All race and all the last four races were a nightmare.
"I don't know what this guy is doing this year"
By the end of the Malaysian GP, Espargaro had been awarded P10, despite crossing the line 11th. The reason being that Franco Morbidelli (Monster Energy Yamaha MotoGP™) was handed a three-second penalty for a clash with the Aprilia rider during the race, which drew some heated comments from the Spaniard.
"I don't know what this guy is doing this year. I don't understand if he's here or on another planet in his head. They have given him some sanctions at almost every GP, but he keeps doing stupid things. I don't know, he hit me two times in Thailand when we were in eleventh place! I didn't understand. And today he hit me super hard, I don't know why I don't crash, for tenth place.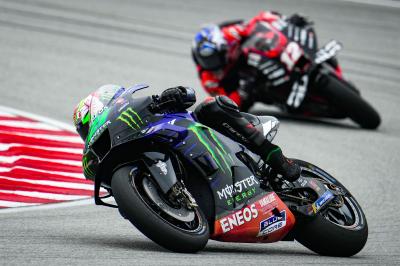 "They gave him 3 seconds, which I think is good because they give me back one important point. But I think you need to start last or from the pit lane. They keep giving him some sanctions, but he don't improve. It's crazy. I don't know, I don't understand. I was very lucky to not crash."
"I wish one day to do a Championship like Aleix did this year"
Commenting on the end of his brother's Championship bid, Pol Espargaro was full of praise for his elder sibling and Aprilia as he reminded everyone of how far they have come in the space of 12 months.
"What he has done with Aprilia, and what Aprilia have done this year is something that will stay in the books. For sure they don't realise how big their achievement is because when you lose something it's difficult to see the big picture.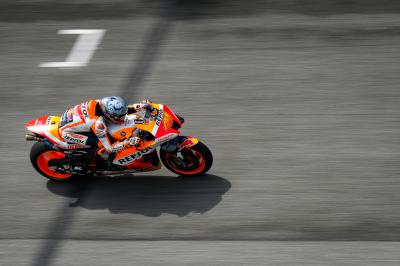 "I'm sure in a couple weeks, after Valencia, they will see the year they have done that nobody expected, even them. They have. Been super all year. Aleix's riding and Aprilia with the bike. I wish one day to do a Championship like Aleix did this year!"
"I tried to avoid any contact or something like this and just arrive into pit lane"
Away from all the podium and title drama, we saw an impressive streak end as Luca Marini (Mooney VR46 Racing Team) recorded his very first DNF in the premier class. The Italian had completed all 36 of his previous races in MotoGP™ but he was forced to retire early in Malaysia.
"Mechanics took out the spring, the preload from the fork, they tried to do it, and it was working well, like usual. But on track, it stayed blocked. Some piece of dirt or another tyre or something it picked up from the ground during the straight, arriving at the first corner was blocking something, I don't know. But it was impossible to make the fork come back.
"At the first corner I didn't feel this because we were very slow, and everybody was really slow. But entering in Turn 3, yes. Because you enter very fast, and then you start to feel like this, because the fork is blocked. But I felt very soon that it was that problem, so I tried to avoid any contact or something like this and just arrive into pit lane. That's it. It's something that can happen. We have a lot of devices, we have a lot of stuff on the bike, and this is part of the game."
"Honda believe I'm the person to do it and I agree"
Over at Honda, work continues as they aim to build for a more prosperous 2023 campaign, however, given that two of their four riders won't be at the factory next season and Takaaki Nakagami (LCR Honda Idemitsu) is still out with injury, Marc Marquez has had to assume a testing role in recent weeks.
In the past few weeks, he has been seen riding with a Kalex swing arm and various aero packages as he looks to find a good balance on the RC213V, and it appears he will continue in that testing role at the season finale in Valencia.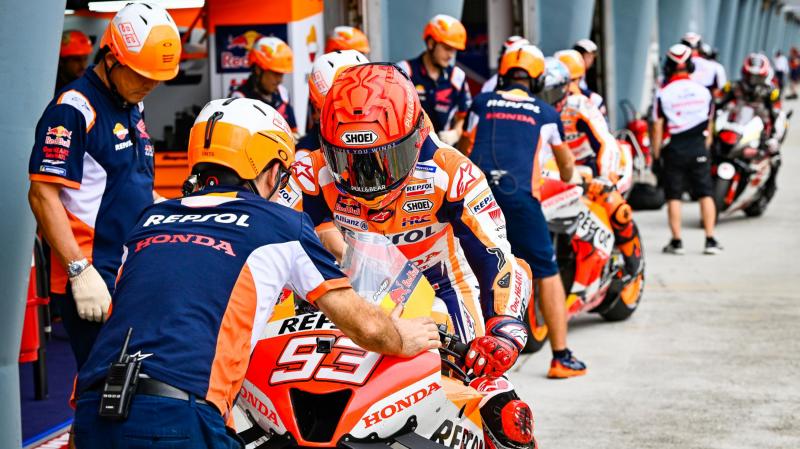 "You can't risk 20 laps": A return to reality for M. Marquez 23/10/2022
"I tried parts with radical changes just to understand the concept for the future. We know some things we tried were not working before going out but it was time to understand it. Somebody needs to do it, and Honda believe I'm the person to do it and I agree. It's not the best way to take the best from the weekend but we did it in a good way.
On Friday (in Valencia) yes, but I'll ask to keep calm on Saturday. The Friday plan is to work for 2023 and then if I feel ok, I will say 'please, let me enjoy the weekend!'"