BMW Introduces New Single-Cylinder G 310 R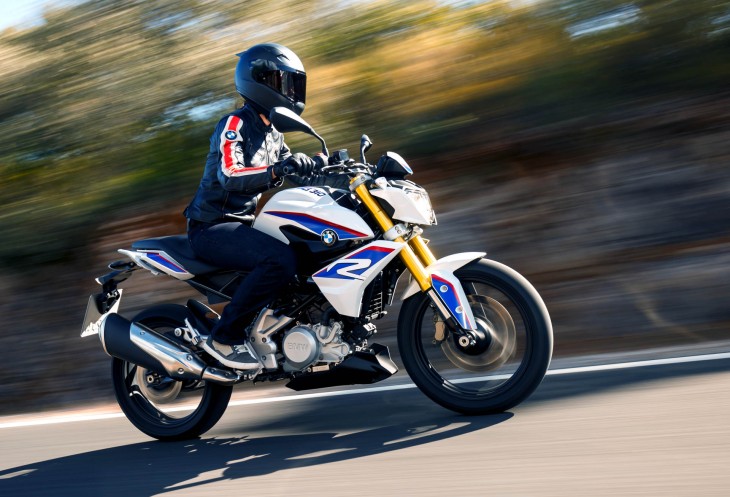 The smallest and lightest BMW roadster has debuted … the G 310 R, which is powered by a 34 hp, 313 cc single. With a large bore/stroke ratio, the new bike makes its peak horsepower and torque far up the rpm range. The engine is "backwards" with the intake at the front and the exhaust at the rear. BMW claims the G 310 R weighs only 349 pounds wet.
Below is a summary of the new bike's features provided by BMW. If you want all the details, you can open this PDF.
The new BMW G 310 R – the first BMW roadster under 500 cc.
One cylinder, low weight, powerful dynamic performance – the BMW G 310 R embodies the pure essence of a BMW roadster: it has neither too little nor too much of anything. Pragmatic in the best sense of the word, it offers precisely what is needed – for dynamic performance and comfort, both in town and out in the country. The BMW G 310 R takes these essential qualities into a capacity segment that is new to BMW Motorrad. As a genuine BMW roadster it masters a range of disciplines: it is just as happy winding its way nimbly and flexibly through the narrow streets of a city as it is travelling supremely and powerfully along country roads. And thanks to its exceptionally low level of fuel consumption and a relaxed, comfortable seating position, it offers the welcome capability of being able to cover a long distance at a time.
At home on the roads of the world.
Newly conceived from scratch, the G 310 R represents everything BMW Motorrad stands for: innovation, quality and of course many years of carefree partnership with its owner. Designed specifically for the world market, the BMW G 310 R can run on the most diverse fuel qualities, meets all emission standards and local requirements – and takes the typical BMW premium aspiration to the segment under 500 cc.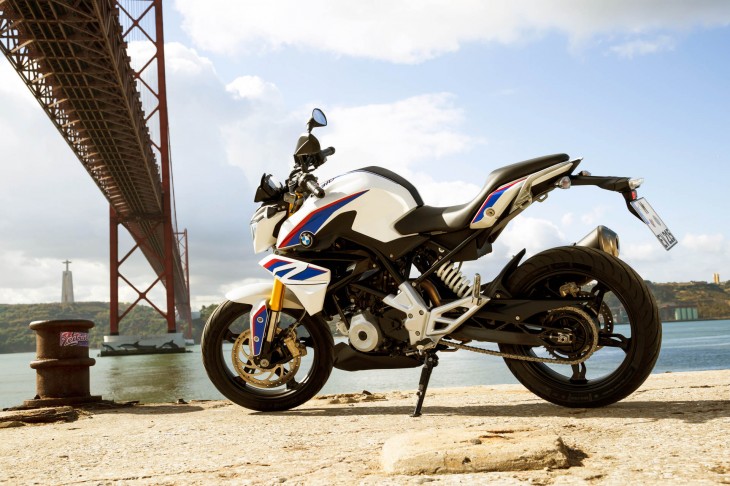 Dynamic roadster design with echoes of the S 1000 R.
The powerfully expressive design of the BMW G 310 R instantly reveals its agile, dynamic character, making a clear statement within its own segment. It has an unmistakeable visual kinship with athletic family members such as the BMW S 1000 R. The small headlamp mask with striking headlamp, dynamically modelled fuel tank trim elements and characteristic roadster proportions with a striking front section and dynamic rear give the BMW G 310 R a mature presence on the road. Precisely modelled surfaces define the dynamic side view. The compact, dynamic proportions and the short wheelbase promise fast changes of direction, while the high rear conveys a lightness that is suggestive of the bike's sporty genes. In spite of the clearly visible naked bike character of the BMW G 310 R, the side surfaces in body colour create a closed silhouette in athletic style. High-end details such as a standard upside-down fork, quality materials, supplementary fittings and excellent workmanship all reflect the finest within the segment, clearly underscoring the premium aspiration of the BMW G 310 R.
Innovative single-cylinder engine for dynamic riding fun and suitability for a broad range of uses worldwide.
The centrepiece of the new BMW G 310 R is a completely newly developed 313 cc liquid-cooled single-cylinder engine with four valves and two overhead camshafts together with electronic fuel injection. The capacity of 313 cc results from a bore of 80 millimetres and a stroke of 62.1 millimetres.
The striking feature of the engine is its backward-tilted cylinder in open-deck design with the cylinder head turned by 180 degrees, making it possible to position the intake tract at the front, viewed in the direction of travel. With an output of 25 kW (34 hp) at 9 500 rpm and a maximum torque of 28 Nm at 7 500 rpm, the engine of the new G 310 R is a very dynamic partner in conjunction with the low unladen weight of 158.5 kilograms according to DIN.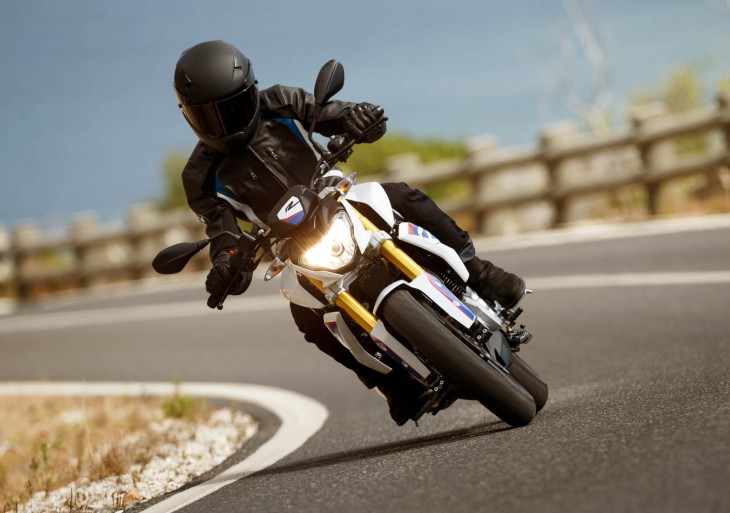 Sophisticated ergonomics and an easy ride response.
The new G 310 R offers a markedly relaxed seating position for relaxed, stress-free and easy-going motorcycling. As is characteristic of BMW Motorrad, all switches and controls are simple and secure to handle. Great importance was attached to easy and safe operation, taking into account the most diverse rider anatomies.
It banks with ultimate agility yet always remains neutral and predictable. It masters lengthy bends and fast passages with directional stability, displaying athletic talent without any loss of comfort. Extremely compact and with a broad spectrum ranging from comfortable to sporty and dynamic, the new G 310 R simply opens up a whole new world of experience in its segment when it comes to ride response.
Rigid tubular steel frame, upside-down fork and long swinging arm for a high degree of ride stability, precise steering response and sound handling. In terms of suspension, the new G 310 R has a torsionally stiff, highly robust tubular steel frame in grid structure with bolt-on rear frame. The front wheel suspension is taken care of by a solid upside-down fork while at the rear there is an aluminium swinging arm in conjunction with a spring strut that is mounted on it directly.
High-performance brake system, ABS as standard and multifunction instrument cluster.
Like all BMW motorcycles, the new G 310 R is fitted with ABS as standard. It combines a powerful brake system with 2-channel ABS. At the front wheel, a single-disc brake with radially bolted 4-piston fixed caliper and a brake disc diameter of 300 millimetres ensures powerful and stable deceleration. At the rear, this function is performed by a 2-piston floating caliper in conjunction with a 240-millimetre brake disc. The G 310 R instrument cluster has a large liquid crystal display that offers excellent clarity and a wide range of information.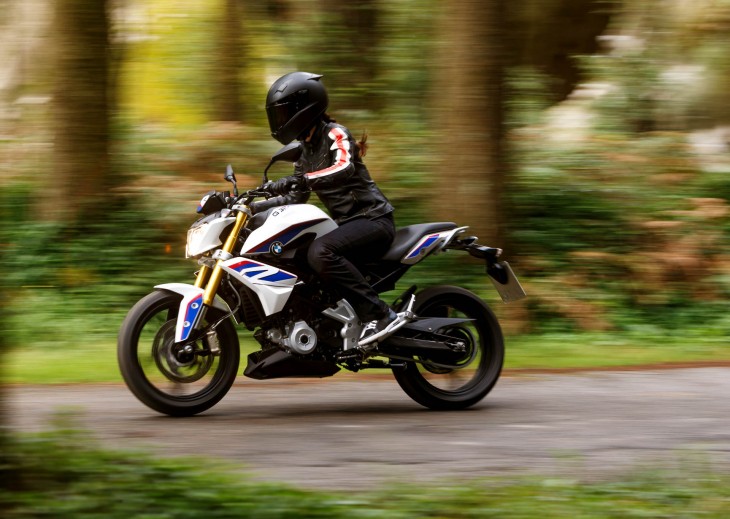 The highlights of the new BMW G 310 R:
Innovative liquid-cooled single-cylinder engine with two overhead camshafts, backward-tilted cylinder and intake tract positioned at the front.
Output 25 kW (34 hp) at 9 500 rpm and a maximum torque of 28 Nm at 7 500 rpm.
Rigid tubular steel frame, upside-down fork and long swinging arm for a high degree of ride stability, precise steering response and sound handling.
Tyres 110/70 R 17 at front and 150/60 R 17 at rear.
High-performance brake system and ABS as standard.
Sophisticated ergonomics and multifunctional instrument cluster.
Low seat height of just 785 millimetres.
Dynamic roadster design with echoes of the S 1000 R.
Developed in Munich by BMW Motorrad – produced in India by cooperation partner TVS Motor Company.
Individually tailored optional accessories in the familiar high quality typical of BMW Motorrad.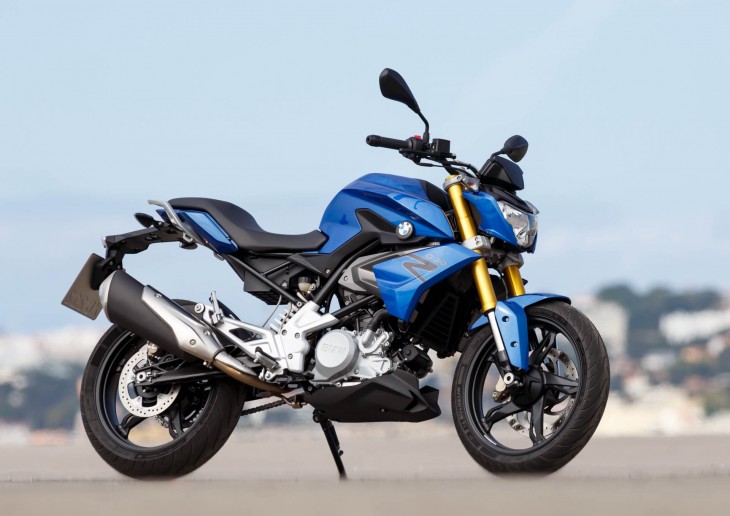 See more of MD's great photography:
Source: www.motorcycledaily.com