Ducati Monster 1200R review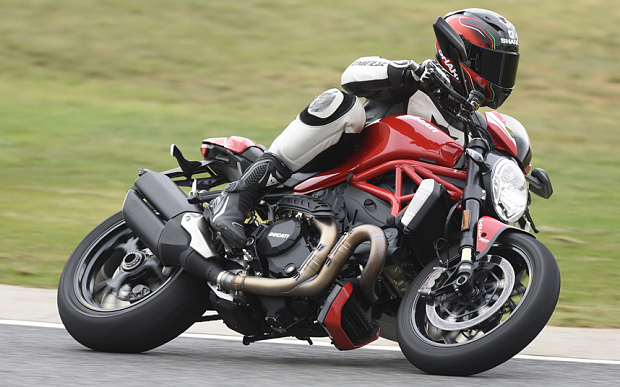 Photo: MILAGRO
The Monster 1200R represents a return to core values for Ducati. Two years ago the Italian firm caused a surprise by revamping its iconic Monster family with a pair of new 1,198cc liquid-cooled V-twins, without producing a 160bhp-plus "super-naked" to compete directly with Aprilia's Tuono, BMW's S1000R and KTM's 1290 Super Duke R.
Although the Monster 1200 and 1200S were quick and refined all-rounders, even the more powerful S model produced a relatively modest 145bhp, was very much designed for road rather than track use, and was more of a cuddly Monster than a scary one. Had the Monster gone just a little bit soft?
Only temporarily, it seems, because the Monster 1200R has considerably more of Ducati's familiar focus on performance. Along with an increased output of 160bhp it has a slightly lighter, taller and better equipped chassis designed to provide sharper handling, especially on a track.
Ducati's engineers had a head start with the new powerplant. The 1200R retains the other Monsters' 1,198cc capacity but its Testastretta 11º dual-spark V-twin is essentially the more highly tuned unit from the Diavel, fitted with a different intake system and smaller airbox that combine to reduce output by a couple of horsepower.
Ducati also needed to reduce engine noise to meet coming Euro 4 emissions regulations. Some redesigned internals plus a new exhaust system achieved that. Sadly, at a cost: the 1200R fires up with a pleasant enough V-twin note, but not with the stirring bark of its free-breathing siblings.
It does, however, have extra bite. There's perhaps a little less low-down urge than the standard 1200 provides, and the 1200R can't match the low-rev smoothness of Ducati's Multistrada 1200, with its variable-valve technology. But the Monster fuels cleanly, even in its most aggressive Sport mode, and accelerates with thrilling force from about 6,000rpm, heading for a top speed of more than 150mph. Electronic aids include Ducati's familiar adjustable traction control, but disappointingly no gearbox quick-shifter.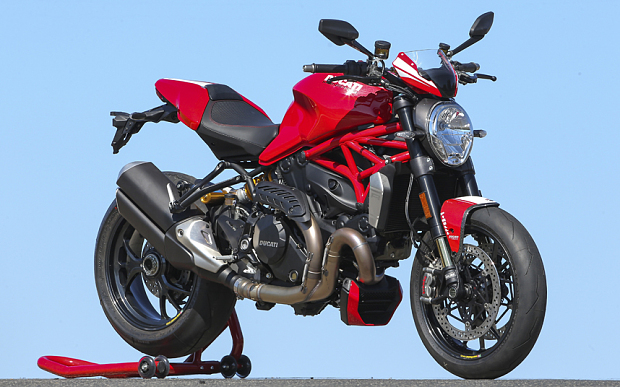 Its speed is emphasised because its flyscreen is too small to divert much wind from a rider who clings to the wide, slightly raised one-piece handlebar. The riding position is slightly more aggressive than the other Monsters' because the seat is taller, forming part of a more compact tailpiece.
Many chassis parts including the tubular steel frame are shared with the Monster 1200S, but the new bike's Öhlins units are lengthened to improve ground clearance. The 1200R also has lighter, forged aluminium wheels, the rear wearing a fatter, softer Pirelli tyre. Cornering speeds can now approach super-sport levels before eventually solid parts touch down.
The Monster's combination of light weight (at 180kg dry it's 2kg lighter than the 1200S) and sporty geometry gives it exceptional agility, further enhanced by the leverage from the wide handlebar. Direction changes are fast and effortless, yet the multi-adjustable suspension gives enough control to ensure stability, helped by an Öhlins steering damper.
Manoeuvrability should also be good at typical road speeds (the launch ride was on track only), although in traffic the Monster's limited steering lock will be of no more help than its taller seat. Clear mirrors, an attractive if sometimes hard-to-read LCD dashboard (which gains a gear indicator) and redesigned footrests earn back points for practicality.
Ducati could have specified semi-active suspension and cornering ABS, as used by the Multistrada 1200S. Instead, the 1200R's Öhlins suspension requires adjustment by hand, and the powerful front brake combines Brembo Monobloc calipers with conventional Bosch ABS. Ducati was presumably keen not to add further to the price, which at £15,250 is already high.
The result is that this Monster seems a little less special than might have been hoped of the famous family's flagship, especially as even its increased output doesn't match that of the rival Tuono or Super Duke R. For roadgoing use one of the less hardcore Monsters would make more sense. But the 1200R is addictively fast, light and exciting, and gives Ducati a genuine super-naked contender at last.
THE FACTS
TESTED 1,198cc four-stroke V-twin, six-speed gearbox
PRICE/ON SALE £15,250 in red, £15,450 in black/January
POWER/TORQUE 160bhp @ 9,250rpm/97lb ft @ 7,750rpm
TOP SPEED 160mph (estimated)
RANGE 140 miles @ 40mpg (estimated)
VERDICT Powerful, light and sweet-handling naked V-twin that has plenty of Ducati style and character but could do with a few more features to justify its premium price
TELEGRAPH RATING Three out of five stars
THE RIVALS
Aprilia Tuono V4 1100 Factory, £14,635
Aprilia's gloriously quick, charismatic and sweet-handling V4 produces 175bhp and matches the 1200R's chassis spec with its Öhlins and Brembo parts, while costing slightly less.
BMW S1000R Sport, £11,600
With its 160bhp output, light weight, semi-active suspension, quick-shifter and low price the four-cylinder BMW looks irresistible on paper – and it doesn't disappoint when ridden.
KTM 1290 Super Duke R, £13,999
The KTM seemed expensive on its launch two years ago but seems less so now, and the V-twin's blend of 180bhp performance, fine handling and refinement is as appealing as ever.
For all the latest news, advice and reviews from Telegraph Cars, sign up to our weekly newsletter by entering your email here
Source: www.telegraph.co.uk