2016 Triumph Street Twin: MD First Ride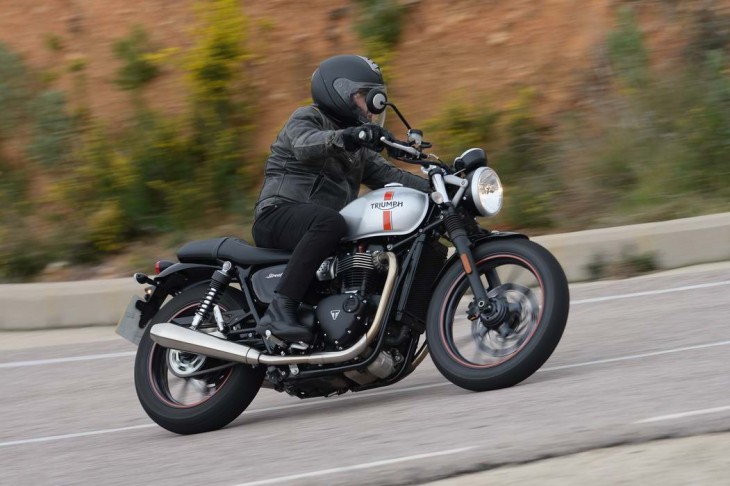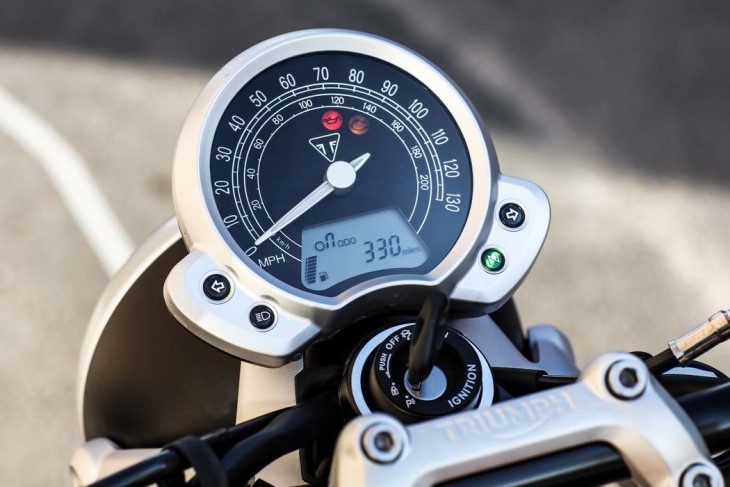 Triumph has built a diverse, successful line-up of motorcycles. Adventure models, high performance nakeds and sport bikes live alongside the British brand's heritage bikes. The Bonneville models are arguably the core of the brand, and they have been completely redesigned for 2016. Courtesy of modern emissions standards, the fuel-injected Bonneville engines are now liquid cooled. The least expensive Bonneville is the new 900cc Street Twin that we had a chance to ride at the press launch recently. This is an entirely new motorcycle, both engine and chassis.
Although a member of the Bonneville family, "Street Twin" is the name on the side covers, but the family resemblance is unmistakable. This is the entry level model, and the target is motorcyclists looking for a comfortable, easy-to-ride machine with distinct British style. The styling of the Street Twin is certainly classic, but there are modern elements as well. An uncluttered, minimalist look largely devoid of chrome offers a subtle, elegant profile that Triumph hopes will fit well with current trends.
The chassis and engine characteristics are also new in that Triumph really focused on making this bike easy to ride, and a solid base for customization and versatility (commuting, touring, play riding, etc.). With a starting price of $8,700, this is the model Triumph hopes will draw new enthusiasts to the brand, including younger riders.
As I first sit on the Street Twin, it is clear that this is a compact motorcycle that is low, narrow and light (Triumph claims a dry weight of 437 pounds). My position on the bike tells me Triumph is trying to improve the ergonomics by moving the rider a bit forward and creating a rider triangle that feels very neutral. As I pull away from a stop, I immediately feel comfortable and in control. The seat looks thin, and does not feel to have an overabundance of padding.
The Street Twin handles well … feeling decidedly more nimble and dynamic than the previous Bonneville. Neutral and balanced, it is capable of attacking twisty roads with confidence. The bike seems to do exactly what you intend it to, with stability and predictability.
The suspension offers a good compromise between control and comfort, as well. A stiffer frame allows Triumph to exploit this compromise so that the rider doesn't feel road bumps harshly, yet there is no sense of wallowing as the pace increases. Unlike the rest of the bike, the brakes are unchanged, including the Nissin calipers. Coupled with ABS, the brakes seem more than adequate for the performance offered by this bike, and the ABS seems to do its job without feeling too intrusive.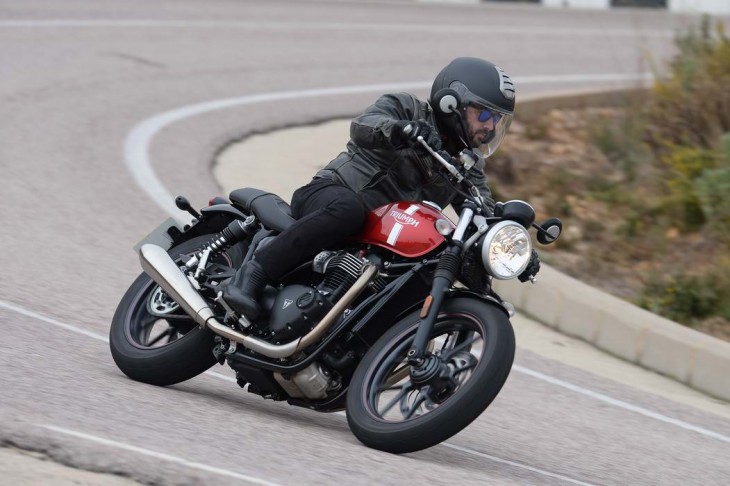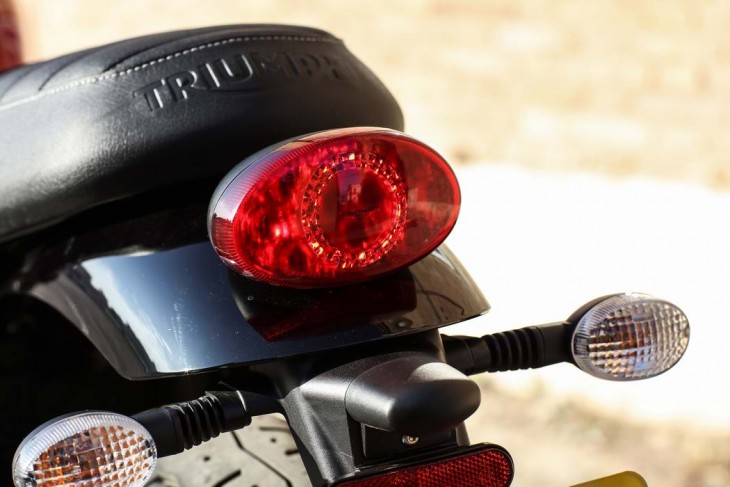 New wheel and tire sizes grace the Street Twin. The rubber includes a 100/90 R18 in front and a 150/70 R17 in back branded Pirelli Phantom Sportscomp. Motivation is provided by that new, liquid-cooled 900cc twin that now fires courtesy of a 270° crank and puts out substantially more torque (18% according to Triumph), but very modest peak horsepower (55). The usable rpm range is brought down with peak torque at only 3,230 rpm and peak horsepower at 5,900 rpm.
Those tire sizes undoubtedly contribute to the nimble yet stable handling, while the new engine pulls smartly down low (not much reason to keep the revs out of the 2,750 rpm to 4,750 rpm range). So what we have is a light, easy-to-ride machine with good power where most street riders need it, but certainly not ready for the drag strip. Triumph also boasts about a substantial, 36% increase in fuel efficiency, so there is a good dose of practicality, as well.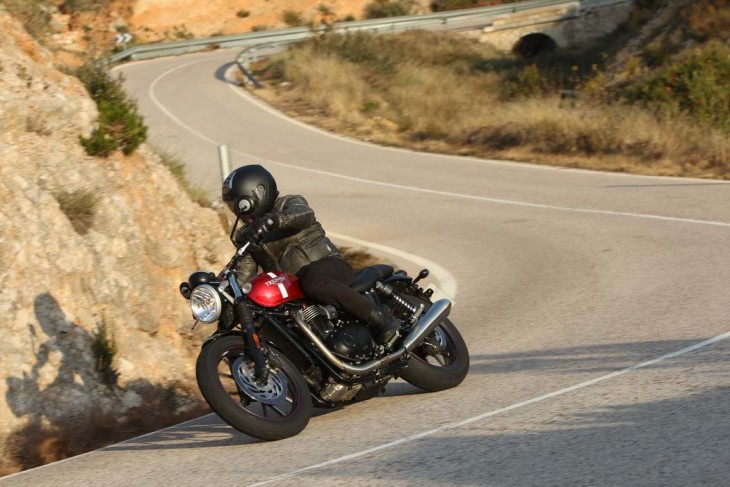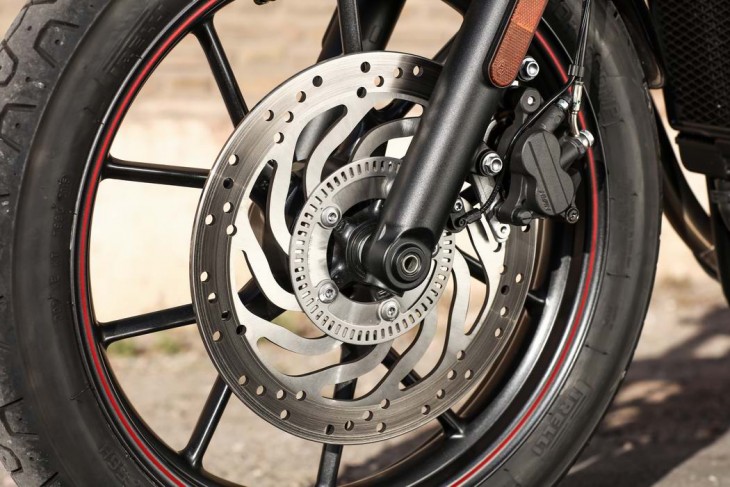 None of this is meant to imply that the Street Twin is not a fun motorcycle to ride. The new firing order means the engine is both smooth and full of character. It sounds nice, as well. Without the need to rev the engine high, it contributes to a relaxed, controlled sensation, but can still make good progress when asked (Triumph claims a top speed in excess of 100 mph).
The Street Twin offers a ride-by-wire throttle as well as traction control. Together with the ABS brakes, Triumph is using sophisticated electronics to further improve rider safety and confidence. In our test ride, both the ABS and traction control were invisible (i.e., did their job without becoming a distraction to the rider).
So we think Triumph has hit its target with the Street Twin. Inexpensive, simple, yet elegant aesthetics, smooth operation with lively handling, and excellent fuel economy form a compelling package. Available in Jet Black for $8,700, other color options are priced at $9,050. Take a look at Triumph's web site for additional details and specifications.
See more of MD's great photography:
Source: www.motorcycledaily.com