2023 Honda SCL500 – Not Shooting for the Moon
2023 Honda SCL500 – It might be when you aren't shooting for the moon that you pull out a winner.
That looks to be the case with Honda's new 2023 SCL500 Scrambler that has been announce for the US market – sorry Canada you are going to have to wait until,… well let's not sugarcoat it, maybe forever. We hope that isn't the case because this new bike born of basic origins – the Rebel 500 – appears to be a winner. Firstly the SCL500 looks good, secondly it manages to pull off a retro vibe without feeling forced, thirdly it is going to be comparatively cheap at a US$ MSRP of $6799. Yes, it is a little distressing that a price pushing $7000 greenbacks is now "comparatively cheap" but that's the way wheels roll in today's motorcycle world if new is your preference over used.
Every retro themed bike has to have a origin story and the 2023 Honda SCL500 is said to pay tribute to the Honda CL350 and CL72 of the 1960s and and early 1970s. For example, this Honda SL350 we featured that eventually became a cafe racer after starting life in the dirt. Maybe the same is in store for one of these new bikes forty year from now.
The specs are pretty basic but they are enough to make the small displacement scrambler a useful universal bike for a wide spectrum of riders while managing to add a little flare to the ride. As noted the engine is the same liquid cooled parallel twin displacing 471cc as found in the Rebel 500.  There is 5.9 inches of travel up front and 5.7 out back – enough for gravel road exploring as long as both tires remain attached to the ground. Seat height is a decent 31.1 inches. The fuel tank hold 3.1 gallons (we'll translate some of this to metric if and/or when the bike is announce in Canada). Also a nice stat is the 419lb weight which includes all fuel and fluids. Like we said, there doesn't appear to be many downsides to the SCL500 as longs as you keep your expectations realistic in term of performance. There will also be a variety of option packs available depending on how you would like to flavour your SCL500.
Honda must have realized  the larger motor rather than the Rebel 300 mill was going to be the preference in this market. Having said that some of you might be thinking what about the Rebel 1100's mill – it could turn something like this into a Triumph Scrambler competitor – now that would be interesting but there are other Honda bikes that actually exist that we are waiting on.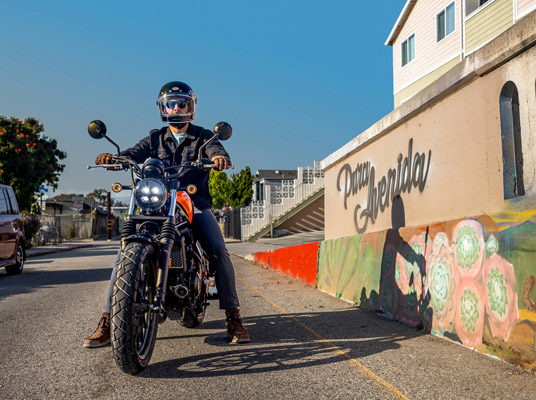 Honda US  is squeezing the SCL500 in as a 2023 model rather than a 2024.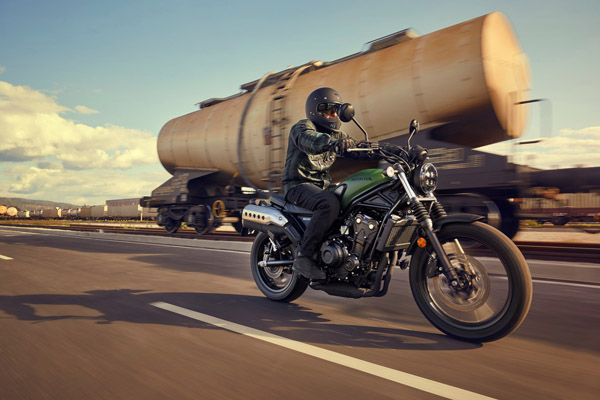 The post 2023 Honda SCL500 – Not Shooting for the Moon appeared first on Canadian Biker Magazine.