2024 Kawasaki Eliminator Revealed
Kawasaki surprised us somewhat with the introduction of the 2024 Kawasaki Eliminator. It wasn't as surprising as a new inline four displacing less than 400cc but this surprise may have more lasting an influence – although we stress the "may". There is nothing revolutionary about the new Eliminator's mill as the base already existed as a 400 in the Kawasaki Z400. To reach the new 451cc classification the Kawasaki engineers increased the bore of the parallel twin that powers both the Z400 and the Ninja 400 – not the ZX-4R as that gets the new inline four. Who would have thought it would get confusing down in the lower displacement department at Kawasaki? Also somewhat borrowed, or as Kawasaki states "inspired by" by the Ninja 400 is the trellis frame.
The surprising things about the reveal is that Kawasaki is taking a swing at the cruiser segment again. And why not, very others are doing it. It has been a long while since Kawasaki offered a new bike in the cruiser segment, the last being the Vulcan S – a 649cc parallel twin cruiser that debuted back in 2015. The Vulcan S was interesting for several reasons – it featured "Ergofit" which allowed a rider to tailor the ergonomics for a better fit, it was an earlier outlier in using a parallel twin and it eschewed the traditional styling, which dominated Kawasaki cruiser styling, in favour of a modern look.
The new Eliminator follows the motif as styling elements of the Vulcan S are clearly present, so much so that it is surprising the new bike did not leave the factory with the Vulcan 450 S moniker. However the "Eliminator" name does have a long history at Kawasaki. As can be expected, Kawasaki states that aside from increasing the displacement of the Z400's mill it has  been configured to feel more like v-twin with a pronounced "pulse". It is ironic that many of these new parallel twins want to feel like v-twins (see the new Suzuki V-Strom 800) but as we discussed parallel twins are the trend going forward.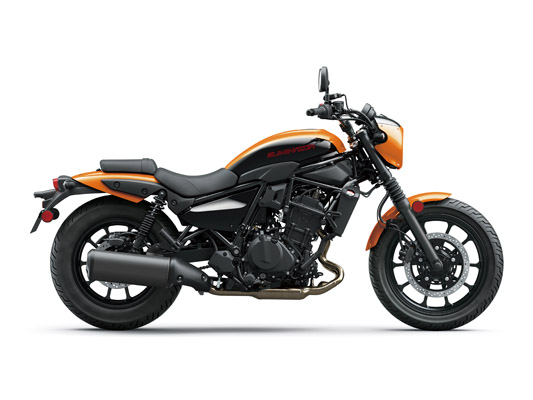 The 2024 Kawasaki Eliminator joins the Rebel 500 as the only offerings in the class. The styling is arguably better than that of the Rebel 500 and the bike is fresh and new so it will have an initial advantage over the Honda. Prices are $8199 for the Eliminator and $8099 for the Rebel (MSRP before fees). There is an optional Eliminator SE model with headlight cowl, factored forks and two tone paint.
It is encouraging to see the introduction of a new lower priced option and. especially,  a new option in the cruiser category after the dramatic decline on offerings over the past five years.
The post 2024 Kawasaki Eliminator Revealed appeared first on Canadian Biker Magazine.