Yamaha Announces 2016 XSR900
That RSD concept we showed you a short while ago did portend a production model which was introduced today by Yamaha … the XSR900. Based on the chassis and engine found in the FZ-09, it will be available in the U.S. market next year (pricing will be announced in February of next year). We think it is a cool looking bike (much better looking than the RSD concept, frankly), and can't wait to ride it.  Here are some of the details from Yamaha (you can also visit Yamaha's web site):
'The simple, timeless styling of the XSR900 is perfectly blended with colour schemes and graphics to reflect Yamaha's sporty DNA, its history and its iconic motorcycles of the past. Beneath the retro inspired exterior lies the latest and best of Yamaha's technology, promising a true emotional riding experience.
'The XSR900 delivers on its authentic feel with minimal use of plastic resin parts, instead offering high quality components to reward the senses. A 14-litre fuel tank with aluminium covers takes centre stage ahead of a split level stitched seat and is complimented by front and rear aluminium fenders, aluminium side covers and a sporty aluminium headlight stay. A matt black exhaust system with contrasting polished muffler end cap provides a throaty soundtrack to any riding adventure.'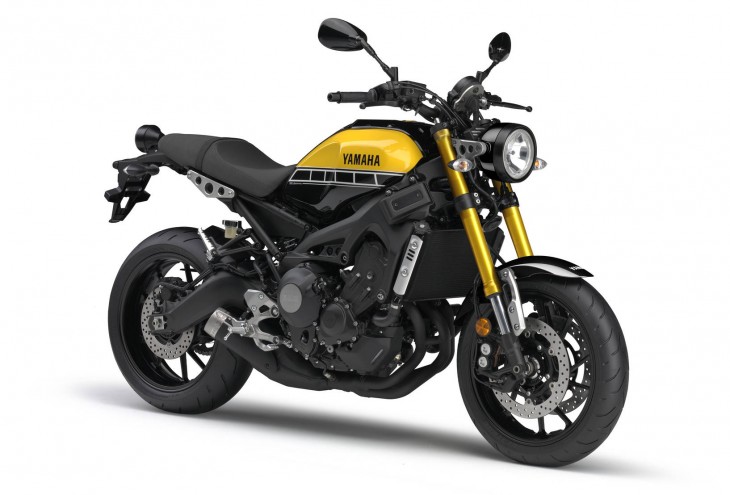 Top Features:
A Style All Its Own
The XSR900™ blends Yamaha's world-class engineering with standout neo-retro style, creating a new type of machine for riders looking for an authentic and honest motorcycle that doesn't sacrifice performance. Drawing influence from Yamaha's classic "XS" series of motorcycles, the XSR oozes class, with exposed aluminum details, retro-influenced bodywork, stepped seat and custom lighting and instrumentation.
Advanced Crossplane Crankshaft Concept Engine
The XSR900 features a thrilling 847cc Crossplane Crankshaft Concept liquid-cooled inline 3-cylinder, DOHC, 4-valve-per-cylinder engine based on the FZ-09™. The compact motor offers the best balance of both 2- and 4-cylinder designs, with an exciting, torquey and quick-revving engine character.
Cutting-Edge Electronics
The XSR900 combines a classic heritage with modern performance, featuring ride-by-wire YCC-T® engine control, adjustable D-MODE throttle response, and an adjustable Traction Control System, allowing the rider to make the most of the potent engine and chassis.
Powerful Braking with ABS
The XSR900 provides exceptional braking power with confidence thanks to sportbike-spec brakes backed up with the security of ABS.
Compact, Sporty Chassis
The narrow aluminum frame features sport-oriented geometry to achieve light and nimble handling. Adjustable suspension front and rear allows the rider to customize their XSR900 to match road conditions and personal preferences.
Details
Liquid-cooled, 850cc, in-line 3-cylinder, 4-stroke
Aluminium fuel tank covers
Traction Control System
Assist & Slipper Clutch
Vintage inspired headlight and rear light
Crossplane Concept engine design
Lightweight frame with aluminium parts
Adjustable front and rear suspension
Retro cool, powerful sports heritage
Stitched two-level seat
Powerful torque, incredible acceleration
Easy to customize
See more of MD's great photography:
Source: www.motorcycledaily.com