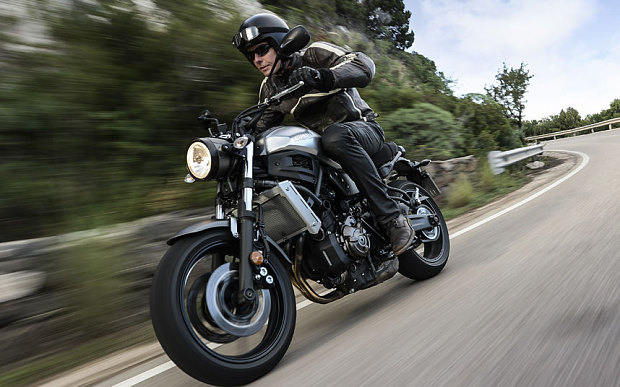 Yamaha's retro-inspired XSR700: enjoyable to ride and excellent value Photo: JONATHAN GODIN
Motorbikes don't get much more on-trend than the XSR700. Yamaha's latest entry-level model sees the Japanese firm join the growing ranks of manufacturers to embrace motorcycling's thriving classic and custom scenes by creating a retro roadster designed for easy personalisation.
With the XSR, which is heavily based on the popular MT-07, revitalised Yamaha aims to go even further than BMW and Ducati, whose successful R nineT and Scrambler have led the new wave. The XSR is the first of a Faster Sons family that will deliver modern heritage-themed models with a variety of engine layouts.
The MT-07 made an ideal base for this first of the breed. It was arguably last year's outstanding bike, combining a lively 689cc engine with a light, capable chassis and competitive price to become a deserved best seller. And as a parallel twin it is directly descended from the 654cc XS-1 that was Yamaha's first big bike on its launch in 1969.
The XSR's green-and-silver paint option is a nod to the XS-1, although its styling is intended to reflect the simple "universal Japanese motorcycle" of the Seventies rather than the old twin. Its petrol tank features aluminium side-panels that unbolt for easy customisation, as does the front mudguard. The MT's tubular steel frame is modified with a bolt-on rear section whose removal allows the two-tone leather dual-seat to be replaced to give a cut-down look.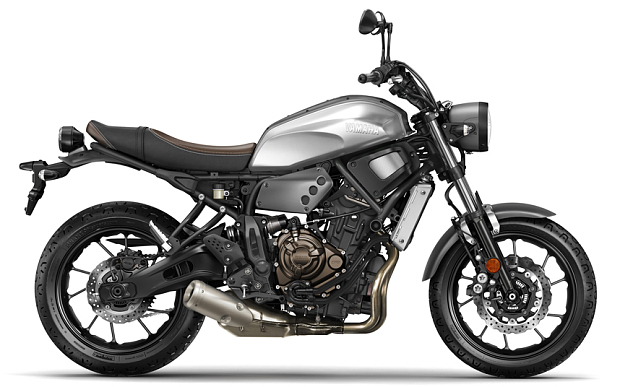 Photo: JONATHAN GODIN
The MT's liquid-cooled, dohc engine gets a new exhaust system but is otherwise unchanged, as is its maximum output of 74bhp. Suspension, wheels and brakes are also retained but the XSR wears Pirelli Phantom tyres whose tread patterns mimic the Phantoms that were a Seventies favourite.
Throwing a leg over the 10mm taller seat reveals the XSR to have a more relaxed riding position than the MT, thanks to a one-piece handlebar that is slightly wider, higher and closer to the rider. Short riders will sometimes find themselves on tiptoe but the Yamaha's flexible power delivery and accurate throttle response make it very manoeuvrable and rider-friendly.
Like the MT-07 it is also enjoyably quick. Its engine is a gem, pulling sweetly from low revs, supplying generous torque through the midrange, and strong, smooth acceleration towards the 10,000rpm redline. The six-speed gearbox is slick; the exhaust note muted but slightly more engaging than the MT's. The Yamaha's ability to combine novice-friendly pottering with arm-stretching 120mph top speed is hugely impressive.
It also follows the MT by handling very well. At 186kg with fuel the XSR is 4kg heavier but still outstandingly light. Its wider handlebar's extra leverage makes direction changes even easier, yet high-speed stability is good. As with the MT, its simple suspension can feel slightly soft and under-damped under hard cornering, but this barely detracts from the enjoyment.
The supple ride also helps make the XSR comfortable, at least by naked middleweight standards. The Phantoms' tenacious grip belies their old-fashioned look, and there's plenty of ground clearance. Braking is another strength. The ABS-equipped twin front discs and four-piston calipers give stopping ability unimaginable to riders of the old drum-braked XS-1.
This modern twin is respectably practical, too. Its switchgear is basic but the mirrors are large and clear, the round instrument panel informative, and the 14-litre fuel capacity gives an adequate range of 130 miles or more. Further features can be added via the plethora of accessories – ranging from a fly-screen to leather luggage – without which no retro-themed model's arrival would be complete.
One way in which the XSR can't quite match the MT-07 is price: at £6,249 it's £500 more expensive but still very competitive. The two are so similar that on paper the original model makes more sense, but riders attracted by the retro image or customising potential of this first Faster Son won't be disappointed. Beneath the clever marketing it's a quick, light, sweet-handling and thoroughly enjoyable bike.
THE FACTS
Tested: 689cc four-stroke parallel twin, six-speed gearbox
Price/on sale: £6,249/February 2016
Power/torque: 74bhp @ 9,000rpm/50lb ft @ 6,500rpm
Top speed: 120mph (estimated)
Range: 130 miles @ 50mpg (estimated)
Verdict: Retro-themed version of the popular MT-07 blends classical styling cues with modern engineering to make a twin-cylinder roadster that is fun to ride and excellent value
Telegraph rating: Five stars out of five
THE RIVALS
Ducati Scrambler Icon, £7,245
Ducati's Seventies-inspired, 803cc V-twin makes a near-identical 75bhp, and is also a close match with its light weight and fine handling, but even this cheapest of the Scrambler models costs £1,000 more than the XSR.
Harley-Davidson Street 750, £5,795
Harley's new entry-level V-twin combines its Seventies café-racer look with an impressively low price, but with about 50bhp and over 220kg of weight the Indian-built Street can't approach the XSR's performance.
Moto Guzzi V7 II Stone, £7,135
The Guzzi's 744cc V-twin engine produces a modest 47bhp so the Stone can't match the XSR's pace, but its classical looks, light weight and sweet handling combine to make a stylish and rider-friendly roadster.
For all the latest news, advice and reviews from Telegraph Cars, sign up to our weekly newsletter by entering your email here
Source: www.telegraph.co.uk