2016 Kawasaki Z800 ABS: MD Ride Review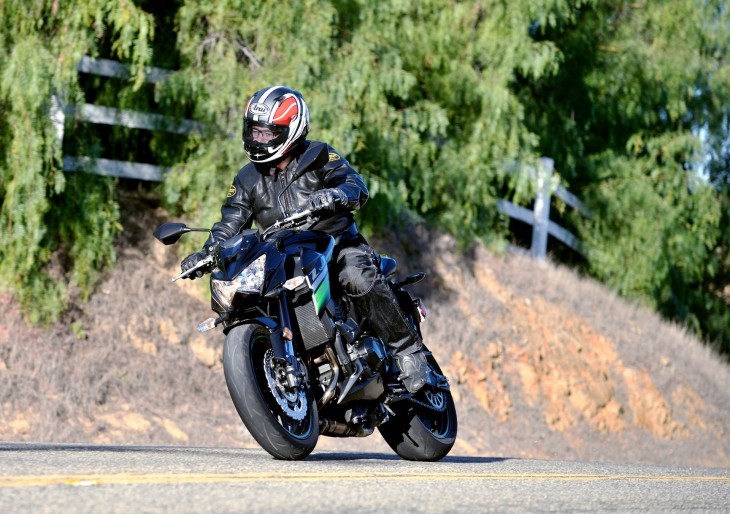 We brought you a report from the press launch of the 2016 Kawasaki Z800 ABS here. Kawasaki loaned us a test unit for a more thorough evaluation. Here is our report.
Take a look back at our report from the press launch for all of the details related to this motorcycle. In summary, this is a machine that has been carefully refined through years of development, and been the best seller for Kawasaki in the European market for quite some time. At the press launch, the refinement shone through, particularly with regard to how accurate the fuel injection responded to the throttle, chassis balance and the stock suspension settings.
After riding the Z800 on familiar roads near MD's office, we can confirm our initial impression from the press launch. This is an excellent motorcycle that can perform many tasks for riders of many different skill levels. The 806 cc inline 4-cylinder engine offers a great combination of usable torque and power at street rpm levels, with a good pull at higher rpm levels when a rider is pushing either on the track or in the canyons.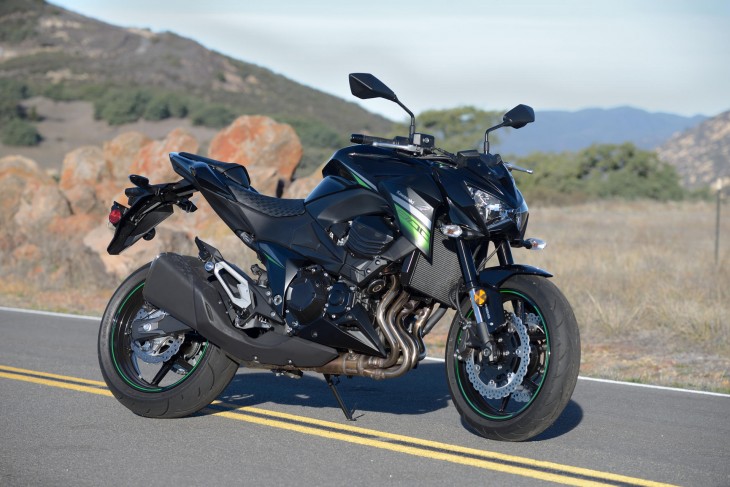 The ergonomics of the Z800 lend themselves to both commuting and sport riding. There is a decent amount of leg room, and the rider sits upright with a slight lean forward. Our only complaint is seat padding that seems adequate for short to medium length rides, but lacks support for longer distances. Not bad, but perhaps worthy of an aftermarket upgrade if you end up using the Z800 for touring or longer commutes.
For a mid-displacement motorcycle the engine performance is hard to criticize. It battles the inherent vibrations from an inline-four well, and offers a surprisingly broad spread of power. We have talked about this before, but it is worth emphasizing. You can short – shift the Z800, and still make good, swift progress at lower rpms. This is invaluable to street riders, particularly those who want to save on fuel. We averaged roughly 40 mpg — decent range given the 4.5 gallon fuel capacity.
Based on our experience at the press launch, we added one click of preload to the rear shock (to raise the rear ride height) and this seemed to solve the understeer problem. Stock suspension settings continue to impress, although they proved too soft at ten-tenths, but this is really a necessary compromise for a street motorcycle, and not really a criticism. The same could be said for the brakes, which are more than adequate for typical street riding, but not quite up to abuse at a track day by an advanced rider. For the price point, nevertheless, power and feel offered by the stock brakes is more than acceptable.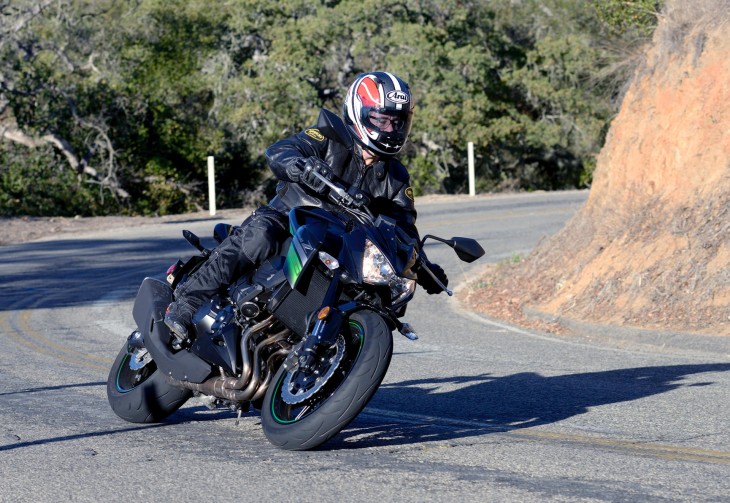 The styling of the Z800 might be controversial, but it grew on us. The hard edges are in keeping with Kawasaki's desire to depict an aggressive stance. The headlight and cowl are so low that you really don't see them in front of you as you are riding. Instrumentation is thorough and legible, although we are not big fans of digital tachometers. The tach on the Z800 is interesting, because it rises vertically in the center of the instrument pod, and we found it more legible than most digital tachs.
Clutch feel and performance is good, and the transmission never missed a shift despite feeling a bit more notchy than some of the competition. Gear spread is good, but in our opinion, sixth gear could be a bit taller, particularly in light of the excellent engine performance at mid-level rpms. Nevertheless, at speeds below 80 mph, vibration is well controlled and not an annoyance to the rider.
At an U.S. MSRP of $8,399, the Z800 is an excellent value. Perhaps its stiffest competition comes from Yamaha's FZ-09, which is also an excellent value at $8,190. The soulful triple of the FZ-09 trumps the Z800 in sound and feel, but the Z800 comes off the showroom floor with better suspension and fuel injection tuning. Choose your poison.
The only color option available in the U.S. market for the Z800 ABS is pictured (Metallic Spark Black/Flat Ebony). Take a look at Kawasaki's website for additional details and specifications.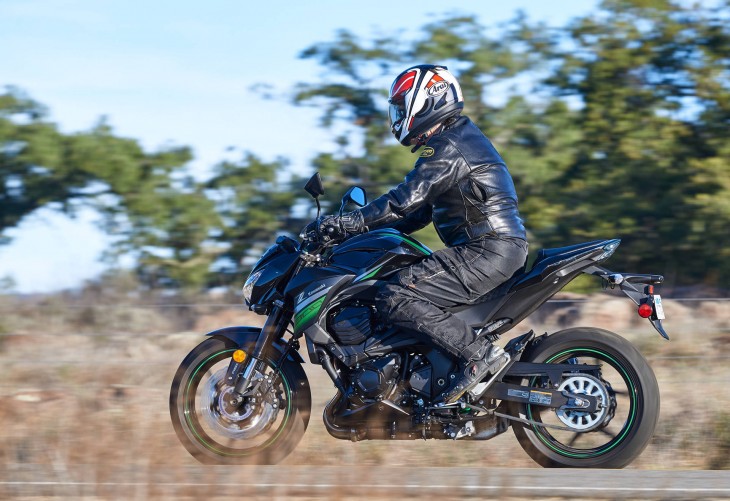 Source: www.motorcycledaily.com